Althea Korea turns 1 today! Happy Birthday to my favourite shopping site for all my skincare & cosmetic needs! Wishing Althea and the hardworking team behind this awesome brand to more great years ahead. May your business grow even bigger to bring the convenience of shopping for affordable Korean products online to more people around the world ヅ
What's a birthday celebration without some surprises right?
Made this list for my lovely readers so you all can grab the best deals!
*Plus click on any of the images to sign up for
an additional $5 off
your orders ◕‿↼
1. Limited Edition Birthday Box + DIY Party Kit
Receive one of these pretty boxes for orders placed on 20/7 onwards!
There is very limited quantity so be sure to grab it while you can. Time for me to add another box to my collection, have been collecting their exclusive boxes because they are too pretty to resist! These are good for keeping and segregating my stuff too.
2. Free Goodies for First 1,500 Shoppers
I heard there will be full-size beauty product in the goodie bag! Shhh, don't say you read it here, just be the fastest to grab this! With Althea's growing popularity, this might be gone within minutes!
*Mental note to start planning my shopping list ಠ‿ಠ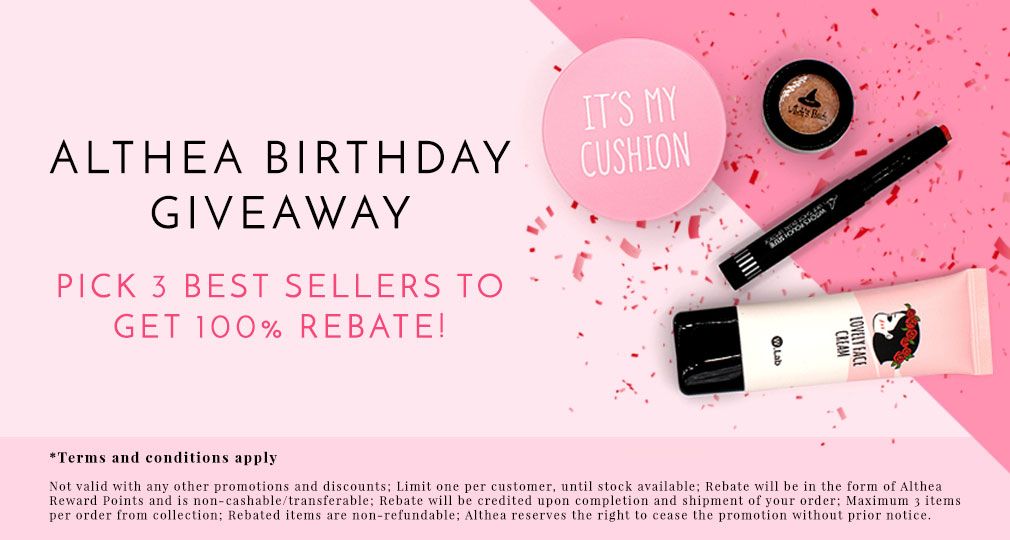 3. Birthday Giveaway. Pick 3 Top Sellers for 100% REBATE!
Yes, you're reading it right, get a rebate for trying out 3 of Althea's best sellers! I'm so guilty of hauling so much cosmetics lately and I'm still going to grab some more here. Sorry I really can't resist such good deals ¯\_(ツ)_/¯
4. Contests on Althea Singapore Facebook
If you haven't like their Facebook, please do so now! Don't miss out on their exclusive #Altheaturns1 contest to win some attractive prizes! Praying hard that I can win something too ♥
For anyone that haven't sign up for an account on Althea yet, you can use my code:
LoveTRG
or click on this
link
, you will get
an additional $5 credit
to offset your orders!
I'm off to grab some good deals before items run out, will share my haul with you all in my next post :D