Summer is approaching, are you all prepped for it yet? More warm and sunny days to come, I'm sure you will need more sun protection and perhaps whitening products to keep the skin protected and fair at the same time! Sounds difficult isn't it? It wouldn't be if you used the right products ;)
Brands under the Shiseido group namely Aqualabel, Senka and Tsubaki recently had a launch party at Coastes, Sentosa for their new products which included whitening jelly essence, mineral essence UV sunscreen and head spa sparkling serum, all the essentials you will need for Summer! Thanks to the kind people at Shiseido, I got to try out these new products and they are all so good that I have to review them for my readers!
Aqualabel Whitening Jelly Essence is an all in one jelly essence that is oil-free and can be used as a one-step skincare right after cleansing or it can be paired with the existing products in your skincare routine as a lotion, emulsion, serum or astringent. The main skin-beautifying ingredients include glycyl glycine gl, double hyaluronic that can permeate and retain in skin to give a moist and smooth skin and the whitening ingredient, m-tranexamic acid, that can inhibit and prevent dark spot formation.
The jelly essence comes in a clear plastic bottle with a rather big opening of 1.5cm in diameter so if I'm not careful with it, I will end up pouring out too much product! That is probably the only disadvantage of this product. The liquid jelly form is easy to pour out so I would like it better if they had a smaller opening. Anyway, it has a light scent which disappears after application. It gives a non-sticky finish with a very slight tingly sensation on my cheeks which can be rather sensitive at times. After using it for a few days, I didn't notice any adverse effects so I think it should be fine if you have slight sensitive skin issues like mine.
I also noticed that the whitening jelly essence helps with the oil control as the tzone areas didn't appear to be as oily in the first half of the day unlike the usual days. As I have only been using it for a few days, I haven't noticed much of a whitening effect yet so I can't comment on that now.
Aqualabel Whitening Jelly Essence is already available at $29.90 in selected Watsons stores.
Moving on to my favourite product of the lot, Senka Mineral UV Essence! As Singapore is sunny all year round, sun protection is extremely important. What Senka have here not only helps to protect skin from harmful rays but it also comes with anti-aging care which is something that many respondents had indicated interest in a web survey conducted by Shiseido.
Senka Mineral UV Essence is made from 100% mineral water with high protection of SPF50+, PA++++ to give strong protection against UVA and UVB rays to prevent formation of dark spots and freckles. The ingredients of Coenzyme Q10 and Hyaluronic Acid for anti-aging care helps to keep skin looking youthful, resilient and firm.
It comes in a squeeze tube of 50g that is good for travel and application throughout the day if you're out in the sun alot. Unlike most sunscreen/sunblock, this is fragrance-free with no mineral oil, artificial colour and is dermatologist tested so it is suitable for all skin types! It can be easily removed with a normal cleanser as it is made with 100% mineral water which is something I love since I always forget to remove before washing my face.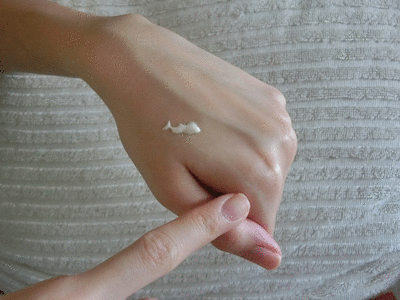 Recently I like to use GIF maker (http://picasion.com/) which is easy to use but it's not that clear :( What I'm trying to say is the sunscreen is easy to spread on the skin, giving a smooth finish without any white cast. I love the non-sticky finish and it does have some oil control properties as I find my face less oily at the end of the day. Perhaps it is because I used this with Aqualabel Whitening Jelly Essence so they complement each other. & That is how you can get enough sun protection and at the same time keeping your skin fair and smooth :p
Senka Mineral Essence UV is already available at $17.90 in selected Watsons stores.
I kept the most fascinating product to the last. Introducing Tsubaki Head Spa Sparkling Serum, the latest out-bath scalp care essence to treat the scalp for beautiful, lustrous and bouncy hair with volume from roots. Leave-in scalp essence that delivers a range of Head Spa effects - from moisturizing, softening to stimulating blood circulation for a healthy moisturized scalp. The main ingredients include natural essential oil blend (moisturises the scalp), camellia flower extract (anti-inflammatory effect to prevent scalp irritation) and carefully selected camellia oil (repairs cuticle).
So what's fascinating about it besides all the benefits stated? Watch the video to find out :p
Did you hear the popping sounds? It is not sound effects but produced by the usage of the sparkling serum! This product comes in a spray can that contains sparkling bubbles to give a cooling sensation and to stimulate blood circulation at the same time. Here's a closer view of how the bubbles look like:
It is fascinating how the product works isn't it! For each use, start with with shaking the bottle 4-5 times and spraying 2cm away from the cleansed scalp for about 1 sec per spray. You will need about 8 to 10 sprays for your scalp in a single session. After each spray, gently press it with your palm until the popping sound disappears just like what I did in the first video, then massage lightly for better absorption.
After each spray, there is a cooling sensation which feels refreshing after a long day at work/school. It is a good way to end each day with a relaxing and simple head massage. I think this indirectly helps me to fall asleep faster too :)
Tsubaki Head Spa Sparkling Serum will be available exclusively at Watsons from 29 May 2014 onwards! Priced at $18.90 each :)