Have you ever wake up in the morning wishing that your hair could be just a bit more "cooperative"? All the messy hair with bad tangles and having to comb it every so often to make it look more manageable can really spoil one's mood for the day! It happens to me so often because of my dry and damaged hair. Even if I tied my hair at night before going to bed, it still left ceases where the hair tie was and the friction from sleeping added on to this.
As we sleep at night, all the tossing and turning in bed will cause our hair to rub against the pillow that results in pillow friction. This is where hair cuticles will open up unevenly, causing hair to be rough, frizzy or prone to tangles, in other words, one will wake up the next day with frizzy, unmanageable hair, resulting in bad hair day.
The main issues with my bad hair days are usually the tangles and frizz that I have to take some time to sort out in the morning. Imagine waking up late and having to rush, doesn't this make things worse :(
Do you experience such hair issues too?
After trying out the latest range of products from Essential, it's time to share how much it actually helped with my hair! Do read on if you want to improve on your hair condition and prevent pillow friction too! The first product I took interest in was: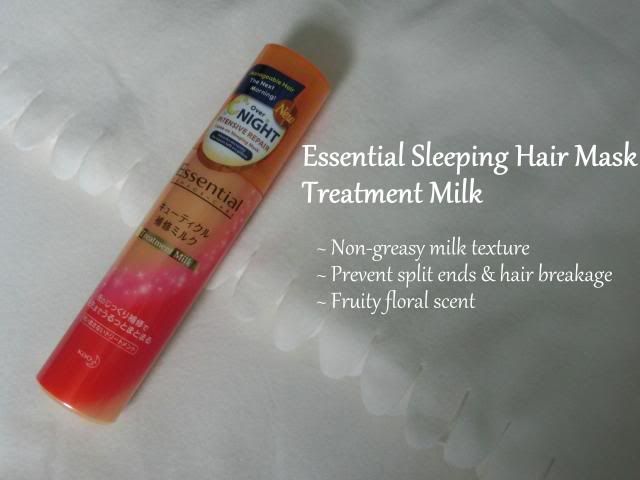 Essential Sleeping Hair Mask 100ml
(To apply on your hair before you go to bed.)
The milky, non-greasy texture is absorbed instantly by your hair and forms a protective layer between each hair strand and your pillow, protecting your hair cuticles from Pillow Friction while you toss and turn. Ladies can confidently look forward to stronger, healthier and silky soft hair that is easy to manage and style the next morning.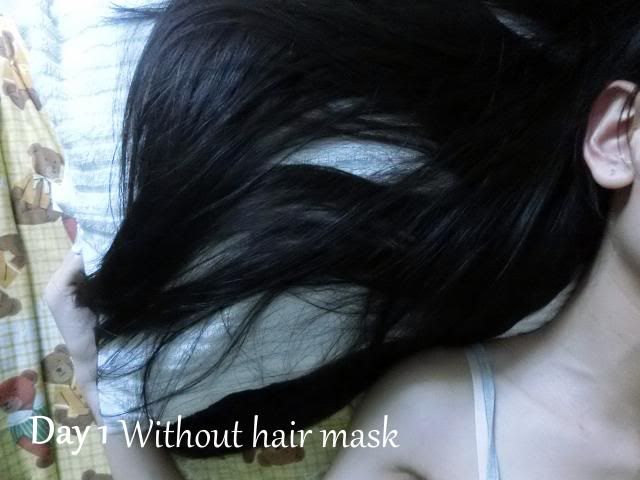 I've tried sleeping masks for face but as for hair, I haven't placed much attention on it so this was my first time trying a sleeping hair mask. I started with nothing being applied, and I woke up to the usual messy hair on the first day. Look at all the frizz and not to mention tangles that I had to go through before it looked manageable.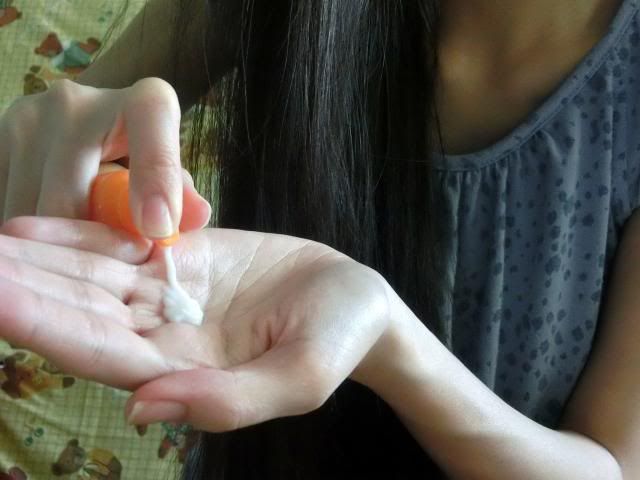 So later that night, I applied the milky hair mask to my hair and its ends. The bottle is of a good size for travel and comes with a pump nozzle which makes it easier to dispense the product. It started out to be sticky but was soon absorbed by the hair, leaving it looking soft. My hair is around waist length so I used a total of 3 pumps, alittle goes a long way. I think with my current usage, this bottle can last me for months :)
The difference can be seen after the treatment milk was applied, the hair smelled so pleasant and felt soft. It even looked better when I snapped a picture on my pillow! You can hardly tell that my hair was badly damaged in the picture right? :) So excited on how it would look the next morning and da-tah:
It looked way better than the usual mornings I woke up to. My hair still felt soft and best of all was the fact that there were little to almost no tangles. I could easily comb through my hair with or without a comb. Before that, I had to comb the ends first to get rid of the tangles otherwise I can't comb it properly. I am amazed with the results!
If the slight frizz still worries you or you have a date to prepare for, you can try out: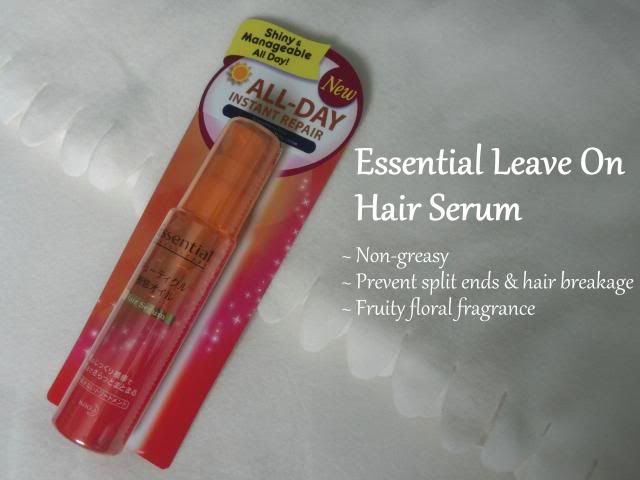 Essential Leave On Serum 60ml
(To apply on your hair the next morning before you go out.)
The Cuticle Protection Ingredients form a protective veil over hair to prevent frizz and dryness caused by humidity and UV rays. Just spread the serum evenly onto hair and it invigorates hair, giving it a healthy and lustrous shine while protecting it from the sun.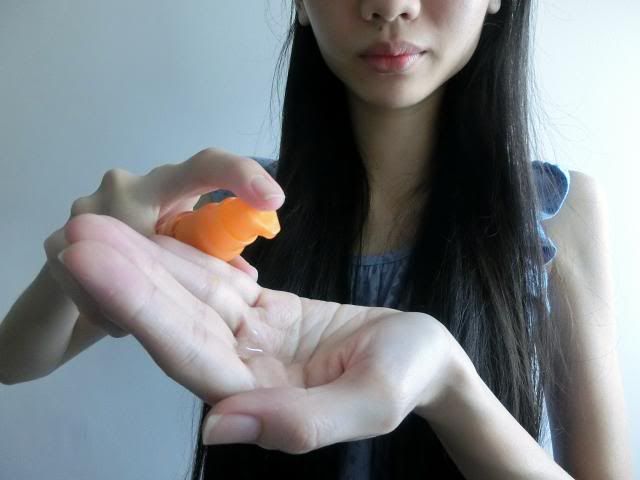 This bottle also comes with a pump nozzle and is small and handy for travel or a slight touch up halfway through the day. As it is a hair oil, it is oily when first applied but just like the treatment milk, it is absorbed by the hair fast, leaving it silky smooth and a slight shine of healthy hair.
Just like the treatment milk, I used 3 pumps to cover my waist length hair by combing through my hair and focusing more on the damaged ends of my hair. This further boosted the softness and silkiness of my hair that I had from applying the sleeping hair mask the previous night.
After using this for a week, even my friends noticed the difference in the condition of my hair and I find that it does lessen my hair falls from de-tangling of my hair, plus it made my mornings easier with lesser time spent on managing my hair.
Thanks Kao Essential for the opportunity to try these products! These products can be found at all leading supermarkets, hypermarkets, personal care stores and pharmacies at only $11.90 each :)
If you wish to try them before purchasing, do grab a sample of Essential Sleeping Hair Mask from http://on.fb.me/1hUqJoA. Plus, Essential x 2NE1 is having a promotion, where you can stand a chance to win tickets to 2NE1's All or Nothing World Tour concert held at the Singapore Indoor Stadium on 28th June! Simply buy $10 worth of Essential products to qualify! Go to www.essentialsg.com/2ne1 for more information! :)