To-gather Cafe
Blk 84 Bedok North Street 4, #01-27, Singapore, 460084
Just the other day, I was having trouble deciding where to go for dinner with my gfs. It is difficult to find a place that is not only convenient and at the same time suit each of our cravings. So I happened to chance upon To-gather Cafe when I was at Blk 85 for supper the day before. I did a Google search for reviews and it seemed like a good place to chill with friends and family!
Without much hesitation, we settled on this cafe for our dinner. We got there at around 7plus, stood at the entrance for awhile but nobody served us so we decided to sit ourselves down. The indoor seating areas were filled up with the dinnertime crowd so we took a table outside. Thankfully it wasn't warm that day. While we were studying the menu, a staff finally noticed us and told us that the orders and payment has to be made inside before the dishes will be served.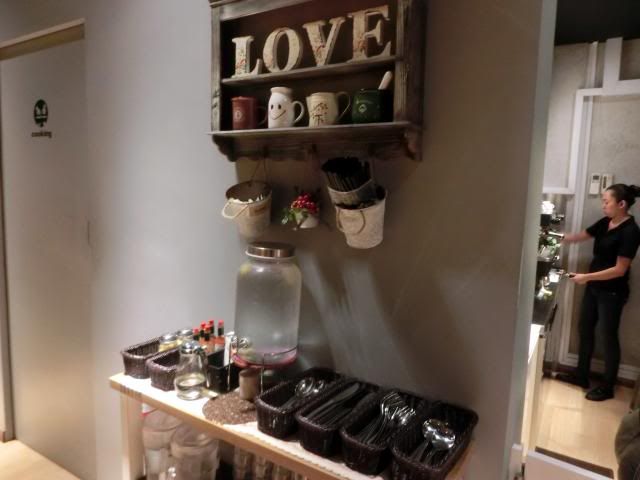 The prices stated are all inclusive of gst and service charges so the prices are rather affordable. Plus, y
ou can get free refillable lemon water next to the counter so you can save on the drinks! We tried one of the drinks and lets just say it wasn't worth the price.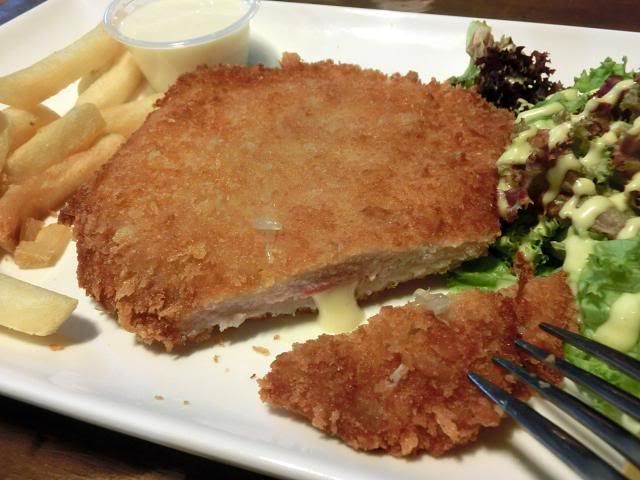 Pork Corden Bleu was the first dish to be served and it smelled so good! As the name suggests, it wasn't just pork cutlet alone but with cheese and ham stuffed inside. The pork cutlet was crispy on the outside and tender on the inside. Cheese oozes out when we first cut into it but it hardens within minutes, which I think was the effect of using cheese slices. I think it would be better if the cheese was springy, like those on pizza if you know what I mean.
We were almost done with the first dish and the next one wasn't served yet! The tables around us were getting the dish even though they got there later than us. Apparently they forgotten about our order until we reminded one of the staffs about it. The staff was apologetic and the dish was served almost immediately after we informed them. On top of that, they gave us a free drink to make up for it, which we didn't expect but it was really nice of them to do this!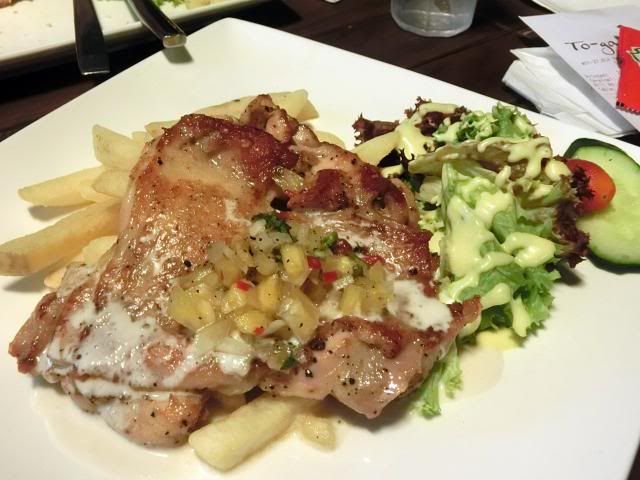 The Grilled Pandan Chicken Chop was my favourite for that day, I'm definitely going back another day to have this again. The chicken was well-cooked, tender and the pandan sauce compliments the chicken well. The pineapple cubes further enhanced the taste with every bite, a refreshing change from the normal chicken chops out there.
As for the drink, it was rather sweet and tasted just like water with powder mix, it just didn't go well with any of the dishes, rather disappointing I would say. But hey, it was free so it might not even be on the menu, maybe I would try a drink the next time I'm there for their awesome chicken chop :)
We didn't manged to try their desserts as we had somewhere else in mind so overall I would say it was a good place to dine with affordable main courses and acceptable service. It would be great if you could make a reservation before heading down to avoid disappointment. While we were there, we saw at least 2 groups of people leaving due to the indoor seating areas being booked.