Earlier this month, I attended the launch of Talika's Light Duo + at Forlino. A short introduction about Light Duo +, it comes with three levels to fight signs of aging: wrinkles, dark spots, plus redness and irritation. With Micro vibration treatment added to Light Duo+, one can enjoy the "light massage" on the face while it reactivates collagen synthesis and elastin production, regulates the production of melanin, reduces pro-inflammatory cytokine production, calms down the skin, reduces redness and irritation!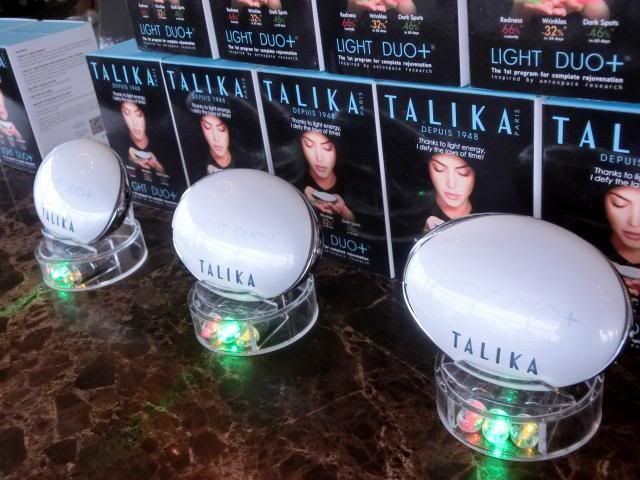 I'm surprised at how compact the product is and how it can pack so much benefits in just this little hand-held device. It is said to improve skin condition within a month (depending on individuals) using light and vibration.
The size and smooth surface of the product is about the size of one's hand and resembles a soap so it's easy to gasp. You just have turn to the setting you need, hold it against your face, can be at a distance or directly on skin, the light and vibration will start to "massage" your skin. If a call happens to come in and you need to rush to get it, you can just leave it on the table and the touch sensitive device will be automatically turned off!
If you noticed the three colour lights (red, green, orange) under the display stand of the product earlier on, that's the different settings available.
The Light Duo+ emits 3 types of wavelengths:
525nm (Green): targets melanocytes for anti-dark spots
590nm (Orange): targets fibroblasts for anti-ageing and anti-wrinkle
630nm (Red): targets fibroblasts, keratinocytes, blood capillaries for anti-redness
Tests done by Talika have shown the following results:
-46% dark spots (2 minutes per day for 60 days)
-32% wrinkles (45 seconds a day for 28 days)
-66% instantly (1 min of usage)
Overall it helps to smooth wrinkles, replumps skin, illuminates complexion, restores radiance and increase penetration of active ingredients. The price is steep for students like me though, it retails at $575, guess it will take me awhile to get it. Anyway it is already available at Sephora! :)