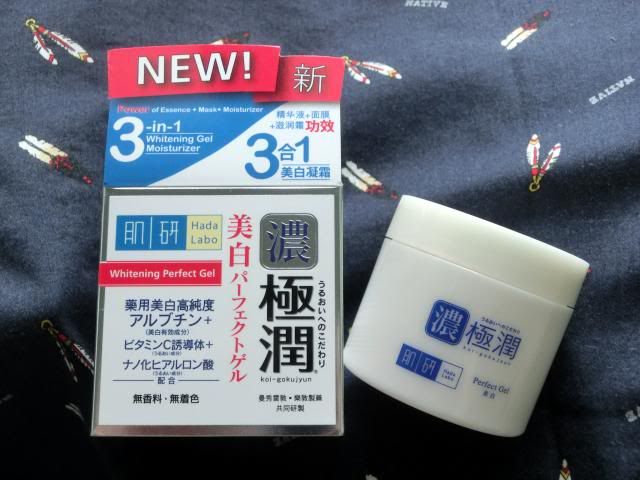 I'm back with another review of Hada Labo's product and this time it's their new 3-in-1 Arbutin Whitening Perfect Gel Moisturizer. I'm currently using their Hada Labo Arbutin Whitening Lotion which really keeps my skin moisturised and slightly brightens up my skin tone so when I saw this new product, I knew I had to try it!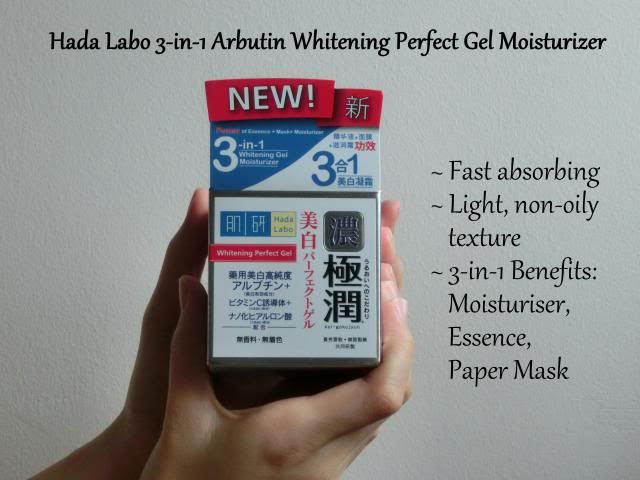 Hada Labo 3-in-1 Arbutin Whitening Perfect Gel contains 3 trinity efficacious ingredients that penetrate within and work on the skin synergistically:
- Natural Arbutin: High concentration levels at 3% of Japanese pharmaceutical-level Arbutin to offer effective whitening results. Enhances skin fairness and targets dark spots.
- Efficacious Vitamin C Concentrate: Proven anti-oxidant enhances collagen production, inhibits the appearance of dark spots and reawakens the appearance of dull skin.
- Hyaluronic Acids (HA) and nano-Hyaluronic Acids: HA is a natural component found on skin. The duo-HA molecules instantly hydrate and lock-in moisture, keeping skin soft, smooth & bouncy.
It may look like a simple tub of gel but it actually contains so much goodness and can be used in 3 ways: moisturiser, essence or even paper mask! As I am already using Hada Labo Arbutin Whitening Lotion in my daily routine as moisturiser, I decided to use this as a mask on alternate nights to further hydrate my skin.
(PS. Like most product with jars/tubs, I would suggest using a spatula to keep it hygienic :))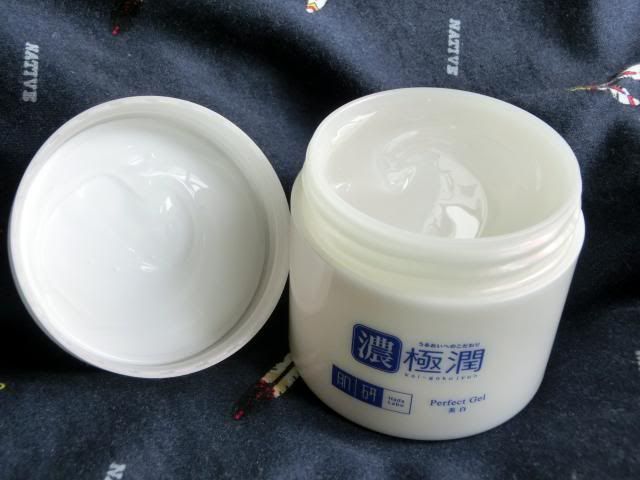 One consideration when using a sleeping mask is not to have sticky feeling after application; imagine your pillow with these sticky product (that wasn't absorbed by skin) the next morning and having to wash the pillow case daily, troublesome isn't it?
Thankfully for this, it's just like the lotion, the gel is light, non-oily and gets absorbed by my skin within minutes, leaving it smooth and hydrated. Being in a gel form is also great for combination skin like mine, it isn't greasy and I don't have to wash my hands after applying, it just gets absorbed! & I like how it resembles a moisturiser but can be used as a sleeping mask at the same time!
Additionally, it is so pleasant to wake up to soft and bouncy skin in the morning! The softness of the skin when I'm rinsing off the mask in the morning just brightens up my day, don't you feel the same too? It's just like good hair day, but this will be good skin day ;)
After using this for about a week or so, I find that my skin became more hydrated, softer, smooth and less oily. Like I mentioned earlier, I have combination skin and it gets really oily at times due to the skin being dry and more oil is being produced to protect the skin. So after using this, it indirectly decreased the oiliness which helped with my outbreak too. I still can't really tell with the whitening effect so I guess I have to be more "hardworking" and remember to apply this more consistently!
All in all, I would recommend you to get this for your daily routine not only due to the fact that it works as it claims, but also because it can be used in 3 different ways so you can save money just by getting one of this! Oh and it's definitely a must bring if you are travelling too!
If you're interested to get this, Hada Labo 3-in-1 Arbutin Whitening Perfect Gel is retailing at S$38.90 at BHG, Guardian, NTUC, OG, Robinsons, Sasa, Unity and Watsons.
*Look out for Hada Labo 3-in-1 Arbutin Whitening Perfect Gel Snow Princess game on
Facebook page
and stand a chance to win this product!
Lastly,
you can also redeem a
free
Hada Labo Arbutin Whitening Lotion sample, just start by creating an account on
SampleStore
, go grab it now! :)