An exciting new product will be coming to Singapore soon! I'm a huge fan of Korean beauty products, be it skincare or cosmetics, because of its affordability and innovative products that are suitable for Asian skin like mine! I do have a couple of items from Etude House that I have yet to review, will try my best to get them done after my exams so do keep checking back on my blog :))
If you have been following Etude House Global, you would have seen this new product. And it has been launched in Korea. As for Singapore, the last I heard was probably in May!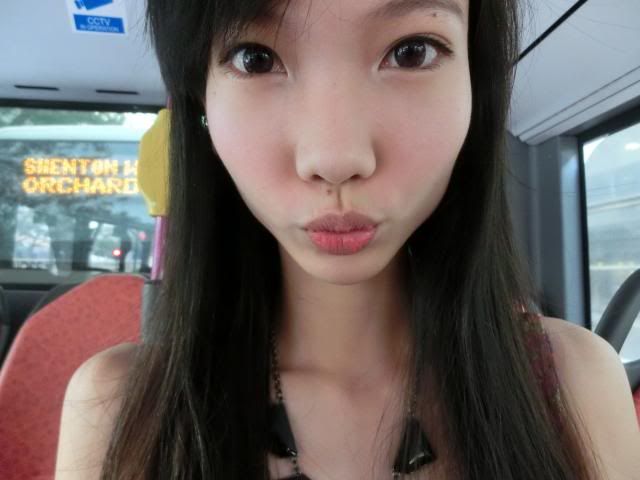 First off, thank you Etude House Singapore for the chance to join this special mission in testing this awesome new product! I'm not sponsored for this; it just so happen that I got chosen among the many applications and you have no idea how excited I was when I saw this! I'm truly grateful for this opportunity! :)
So you might be wondering, what's with that picture above? That was taken on that day after my visit to Etude House's office and I only had the base (Magic Any Cushion) together with some loose powder on, yet my skin looked so healthy and almost flawless? Haha, ignore the colour makeup because the main point is my skin, no photoshop was done to remove any redness or pores or pimples and no concealer was used. I have yet to find the perfect concealer so usually I just go without one.
Are you impressed yet? Maybe I should tell you more about the product first!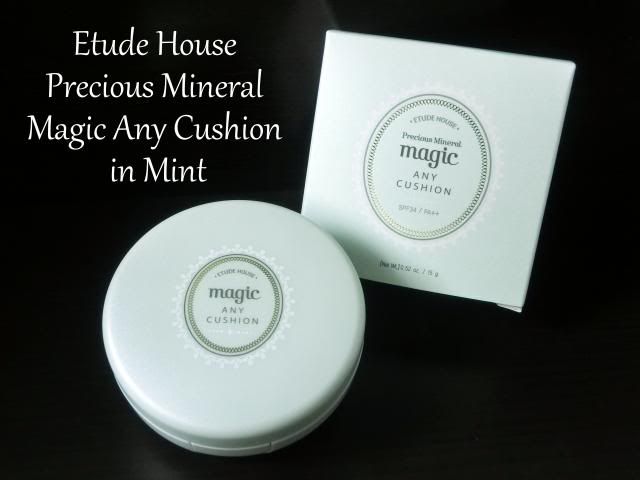 The full name of this product is Precious Mineral Magic Any Cushion, a rather long name for a product but that's kinda what I like about Korean products too :) This resembles a mix between their Precious Mineral Any Cushion and Sweet Recipe Baby Choux Base, both of which I didn't managed to try before this. I probably don't need to because the combination of the two seems good enough for me!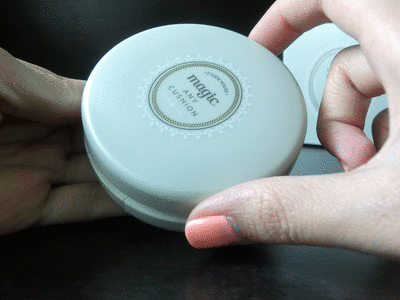 At the first look, the compact might seem alittle bulky, but it comes with a big mirror which justifies the size. I dislike small mirrors that can be difficult to get a good look at times. Anyway, it is all in one with mirror, puff and cushion so it is ideal for travels and touchups on the go. I like how the additional white cover helps to separate the puff and at the same time keep the cushion moist. The pretty compact in pastel green reminds me of macaron too! Etude House's product packaging has always been pretty, princessy and cute which is a plus point for me :)
(Picture extracted from cosmetic love)
Magic Any Cushion is moisture-rich multi colour cushion of SPF34/PA+ and here are the shades available, you can choose one or mix between the three if you have these skin concerns:
Magic Pink: Pale Skin
Magic Mint: Covering redness
Magic Peach: Brightening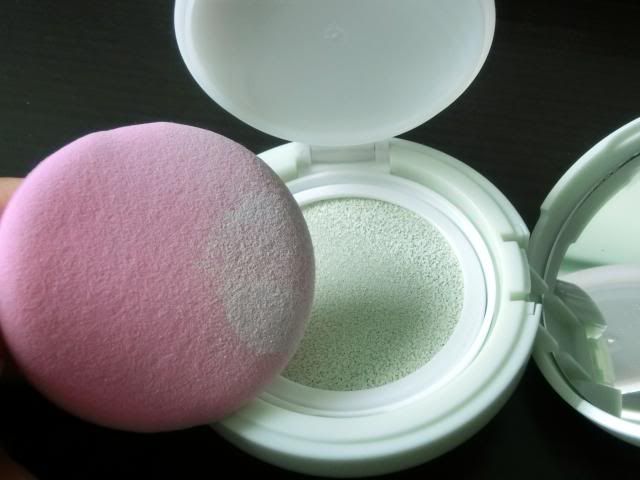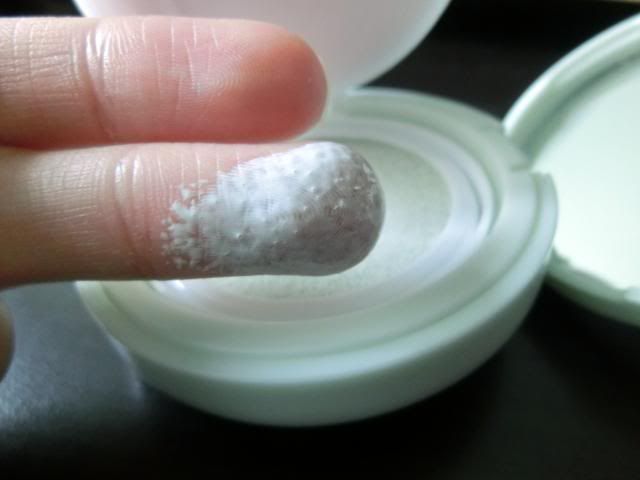 As I'm more concerned with the redness on my cheeks, I was given Magic Mint shade to try. It is a multi-functional tone up base cushion so you can use it on its own or with some loose powder over it. The colour of this base is light green and smells really good, doesn't exactly smell like mint though.
The texture is light and easy to spread on skin just by gently dabbing, starting from the inner corner of cheeks. You can control the amount of product you need just by how hard you press the cushion and I usually start with light dabs, a little goes a long way!
On work days which I don't require makeup at all, I would just use it on its own as it not only protects my skin from the harmful UV rays, it also helps to lighten the redness, even out my skin tone and make my pores less visible. It is only on days where I have to attend events that I put on another layer of loose powder for better coverage. In both scenarios, I don't touchup and the base/makeup can last till I get home about 9 hours later! My face does appear alittle oily instead of dewy after 6 hours or so but it doesn't bother me that much since I will be home soon :x
This was how my skin look with just one layer of the base, both pictures were taken under natural light without photoshop. The after might appear too bright due to the angle of picture taken but the product is really good!
Yes I know I have huge pores, and I'm still looking for an affordable way to get rid of them! Anyway, with the use of Magic Any Cushion, you can see that my skin tone brightened up, with reduction in the pores and slight redness of my cheeks on that day. It does give a dewy look which is trending in Korea now, so if you're going for natural with dewy look, this is the product to try! The coverage is more of light to medium in my opinion but you can control how much you need to cover the flaws.
Even though the coverage is buildable, if too much is used, your face might appear too ghostly white. It would be better to use some loose powder for better coverage. Oh and one more thing, it does have moisturising and cooling effect once applied which is rather refreshing on warm weather. Haha.
I might try another colour if I have the chance to, but for now, this will be in my makeup pouch for daily use! :)