A few days ago, I was invited to Majolica Majorca & Ma Cherie launch party at Shiseido Beauty Studio. Thanks Wendy for the invite! :) The theme of the night was the floral enchantress so upon entering the place, I was drew in by the light scent and pretty booths decorated with flowers, petals and candles.
In this launch, Majolica Majorca added a new chapter, chapter 40 eye hunter, while Ma Cherie launched refill packs for its air feel and moisture range! Before I go any further, do check out Majolica Majorca Japan website to create a special movie customized to the items you choose.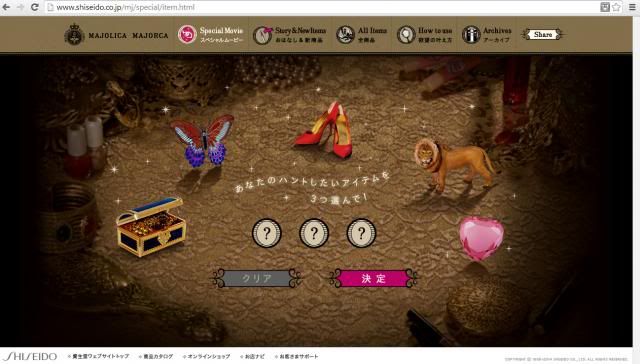 Here's the website to start creating your special movie:
http://www.shiseido.co.jp/mj/special/item.html
You can start by selecting 3 items that you would like to combine in your movie. For mine, I selected treasure box, butterfly and shoes; this is what I've got:
I like the details they placed into creating the videos with the interesting drawings and way of depicting the word: hunt, which leads us to their new product; Line Hunter. That's one of the 3 new products they are launching; the others are Honey Pump Gloss Neo and Perfect Automatic Liner in 2 limited edition colours.
Let's start off with Majolica Majorca shall we? ;)
Line Hunter $19.90
The Line Hunter (BK999) comes with a flat brush that allows users to draw either thin/thick lines depending on the angle the brush is held. A smooth texture allows one to draw without much effort and stays on throughout the day with it being sweat and sebum proof. It also contains essence to treat your eye area!
Perfect Automatic Liner $22.90
2 new limited edition colours (Purple: VI303, Red: RD303) to freely express your mind, comes with glimmer and shine too.
Swatches of the eye liners on Eileen's hand!
Starting from left, VI303, RD303 and BK999 :)
Honey Pump Gloss Neo $12.90
2 new limited editions colours that contains moisturizing ingredients such as acacia honey, royal jelly extract, beeswax. I didn't manage to try this and don't have one in my press kit so won't be reviewing on this :/
Chapter 40 Eye Hunter range will be available in selected Watsons stores from 6th March onwards, do keep a lookout for them! :)
Ma Cherie, french words which means My Sweetheart, was introduced next and being more environmentally friendly, they launched refill packs! So no more throwing away of old bottles, now you can reuse them, buy refill packs at a lower price and save the environment!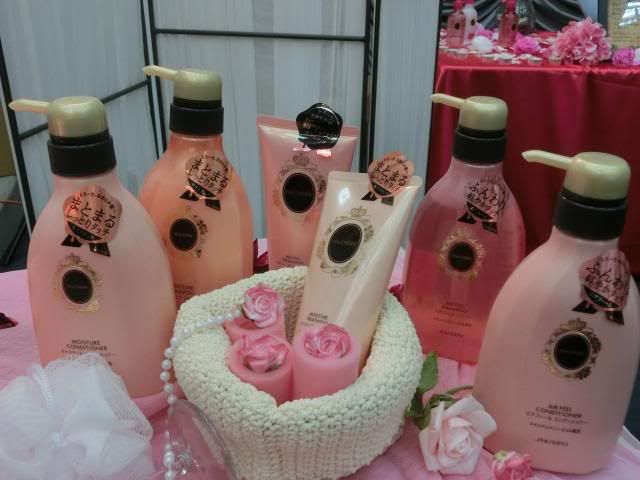 Refill packs: Air Feel $13.90 each, Moisture $14.50 each
Formulated with Champagne Honey Gelee, after using them, you can glide your fingers through smooth silky hair!
It will be available in selected Watsons stores from 6th March onwards, do keep a lookout for them! :)
After the short presentation on these products, we got to try the games prepared!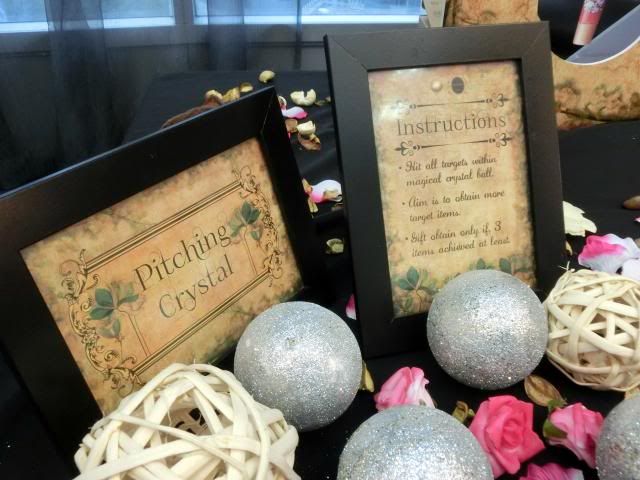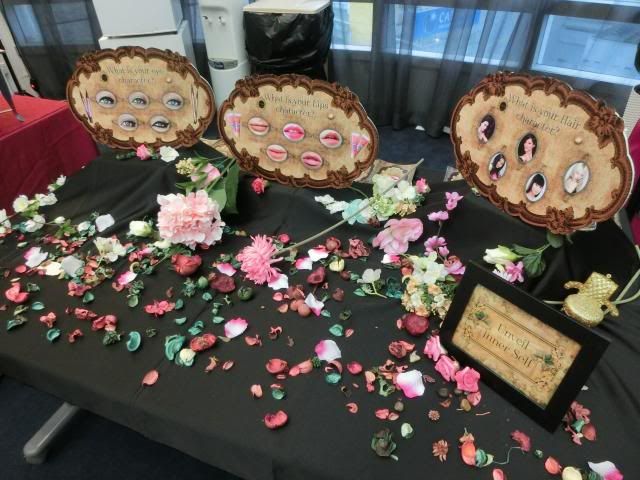 Just like the previous launch that I attended last year, the team put in a lot of effort into designing these games and setting them up for us to try our hands on, look at how pretty these booths are! The games were simple yet enjoyable; it also helped to refresh my memory on the presentation done earlier on.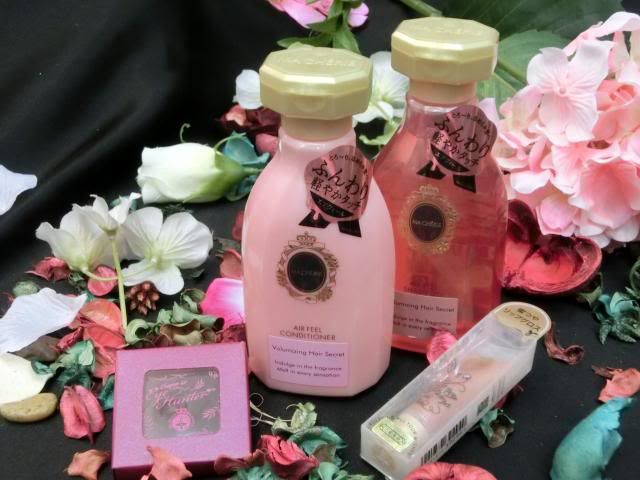 Prizes I received from the game booths :)
Other than these games booths, there was an additional booth for us to try out the products and design the most creative eyeliner look to stand a chance to walk away with a hamper. I couldn't think of anything fanciful so I just did a trail of hearts with some help from Zoe & Celine too :)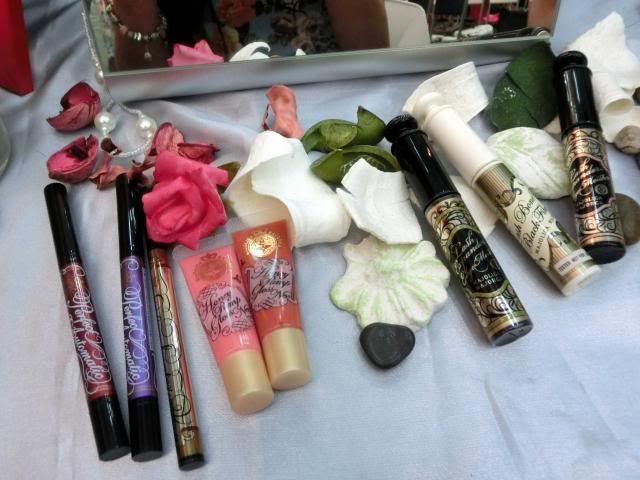 Products I used:
Perfect Automatic Liner in RD303, VI303
Line Hunter in BK999
Lash Expander Edge Meister
Like what was mentioned earlier, the Line Hunter comes with a flat brush so it was easy to control the intensity and thickness, notice that I even outlined one of the hearts! As for the automatic liner, I was rather new to those so didn't control the amount of liquid well so the colours of the hearts in purple and red differed from one to the other. It was after I'm done with my look that I finally know how to use the automatic liners. One turn will be sufficient and you have to shake it downwards slightly to get the liquid to the tip of the brush! I shall try that method soon!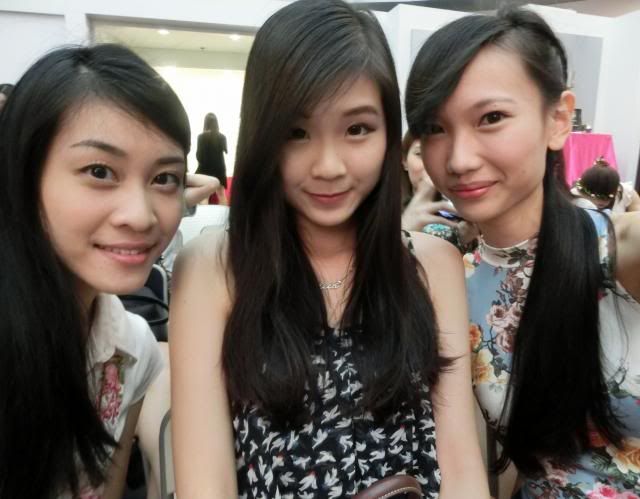 With Zoe & Eileen, lovely bloggers that I met from BioNike event sometime ago, hope to see them soon :)
Once again, thanks Wendy for the invite to the lovely night of games and informative presentation! To all, do keep a lookout for the new products on shelf from 6th March onwards! :)
Meanwhile, don't forget to "like" them for more updates on latest promotions and new product launches :)
Facebook:
Majolica Majorca Singapore
Facebook:
Ma Cherie Singapore