Hi lovelies!~
My exams are around the corner so I might not be updating as often during this period but I will be back in May so please stay with me! I decided to prepare a giveaway to thank those who have been reading my blog so far, plus to welcome new readers, by giving away 2 boxes of items!
They are from brands that I have worked with or brands that I love so I think you might like them too! I really have too much items so like what my friend always say, sharing is caring, I decided to share them with my readers :p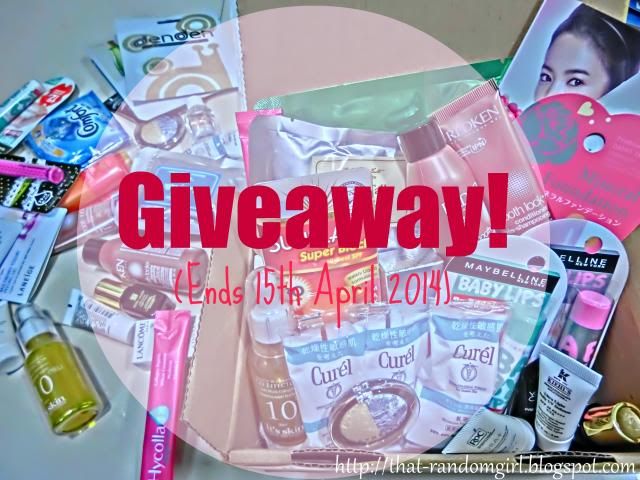 (Picture taken with HDR art mode)
How to join:
1. Be a follower on Instagram and at any of my social media platform (Bloglovin', Facebook, Google+), if you follow all, it would be even better! :3
(So you need to follow at least 2! Updated on 2nd April)
Please be active on those platforms and not create a new empty account just to fulfill this criteria :x
Instagram : http://web.stagram.com/n/that_randomgirl
Bloglovin' : http://www.bloglovin.com/blog/3504464/thatrandomgirl
Facebook : https://www.facebook.com/thatrandomqirl
Google + : https://plus.google.com/111938730598079844855/posts
2. Leave a comment with your name & details as to which platform you're following me.
Example
Name: Candy Wee
Social Media that I've followed you on: Instagram, Bloglovin'
Country you're residing in: Singapore
3. There will be 2 winners, one for local reader and one for international reader which will be chosen at random on 16th April 2014! I will send you a private message on whichever platform you are currently following me at, as well as announcing the winner in this blogpost.
Good luck to everyone and do continue reading my blog! ^^
Congrats to Akid Yuke Destiara & Charmaine Tan for winning this giveaway! I've contacted you on instagram, do reply soon :)