おはよう ございます! (Good Morning!)
I'm in the midst of learning Japanese through books as I'm planning to go for a trip after my exams and it's such a pleasant surprise when I found out that Channel U introduced this new competition-based variety show: Find the WASABI《Wasabi 新体验》! :)
Japan is a beautiful country with rich culture, good food, natural scenery, trending fashion and makeup styles that I have been planning to visit again! Yes, I visited Japan before, specifically Tokyo with my course mates back in polytechnic. A rather interesting school trip as we learnt to source for unique merchandise to be brought back to our school to sell! It was a relatively short trip and we didn't get to explore much other than the places on our itinerary so I would love to go back if I had the chance to.
Thanks to Channel U for inviting me to the private screening last weekend! The event was held at Kuishinbo, Great World City. All of the following pictures are taken from Channel U Facebook page as I couldn't get a good take from where I'm sitting :(
Spot me!
Before the screening, the host(Y.E.S 93.3FM DJ Ivy Tan introduced us to Seraph Sun, where she recalled her interesting experiences when she was going through the challenges and things she learnt from this trip to Japan. She speaks Japanese pretty well too!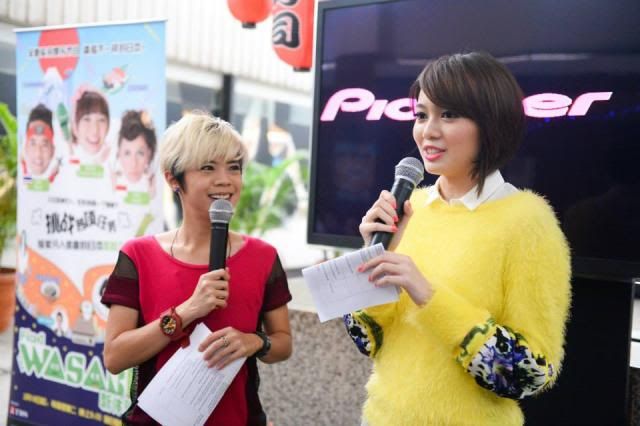 After that, we got to catch the first 2 episodes of the show and I'm hooked! It kinda resembles the Korean variety show: Running Man where they have to complete tasks assigned but this show only involves 3 Asian celebrities from Thailand, Singapore and Indonesia. With only one winner who can walk away with exclusive promotion of them on Japan media, they competed with one another while discovering the culture, food, lifestyle and people through the games and tasks assigned!
It was really interesting and at times hilarious when they go through the tasks. Unlike what the name suggests, the first 2 episodes didn't show anything involving wasabi other than the name of the house they are staying at. I will continue watching the show to find out if any of the challenges or forfeits include wasabi, that would be exciting!
Additionally, I learnt more about Japan as the show progresses on and one thing that I took back that day was the interesting way that Japanese introduced the food on shows. The better you do it, the more exposure you get on Japanese media, goes to show how important food is to them!
I shall insert a spoiler here which is Seraph being in the lead at the moment! I'm rooting for her as I'm surprised at how fast she learnt and the impromptu thing she did at the second challenge which made her the winner. All 3 of them were to put what they learnt about introduction of food and she actually directed the cameraman to the kitchen to film the process, something that wasn't taught, and the judge was amazed.
Alright, that's all I'm going to say, if you want to know more, be sure to catch
Find the WASABI《Wasabi 新体验》every Tuesday at 8pm on Channel U
! Trust me, you will learn alot about Japan through this show! I am already looking forward to the next episode! :))