Too Cool For School is not the usual Korean brand with all pink, frilly or cute designs. It is more of something different, fun, smart and artistic; featuring quirky artworks on their product packaging! As quoted from them: A whole new culture of experimental beauty art regardless of generation or age world of too cool. It's all you've ever dreamt of. Interesting isn't it?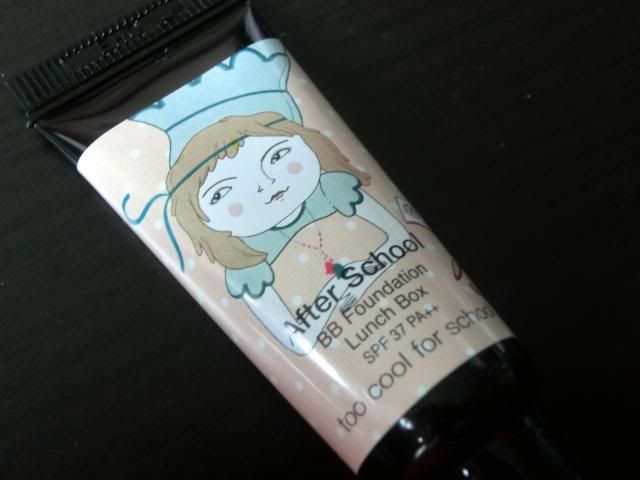 Recently I received a sample of their diamond 4D skin effect bb foundation with SPF 37 PA ++ in soft skin (blue packaging). Look at the quirky design on its packaging! I've also seen their full size retail product before: it comes with highlighter and concealer, all in one, relatively more convenient to just bring one product out for touchups!
Description
Too Cool For School After School BB Foundation Lunch Box SPF 37 PA++ contains all you need for a base makeup in a handy bottle. The bottom part of the bottle contains moisturizing BB cream, while the top part contains concealer and highlighter. It can naturally cover skin flaws and shape your 4D contour face line. With sunscreen SPF 37 PA + +, it effectively protects skin against harm by UVA and UVB and thius delays skin aging. Slide & Fix Polymer locks form a water-locking film over skin surface and prevent moisture loss. Organo-Silicone Coated Powder keeps the makeup long-lasting and durable. Diamond powder reflects light to refer you a sharp and outstanding face line.
(taken from sasa.com)
Review
Upon opening the travel size sample, there's a pleasant scent, some sort of light minty with a mix of floral smell which I like! The consistency of the bb foundation appears to be slightly thicker, a mix between thick foundation and the lightness of bb cream. Although the consistency is thick, it spreads out on skin rather easily and gives a medium coverage, buildable if you want better coverage but can leave a white cast if too much is used. The shade of bb foundation is rather fair but doesn't make me look too ghostly pale and blends rather well on my skin, plus points for this!
Also, for this particular type (soft skin), it actually gives a matte, healthy and soft finish which is good for combination skin like mine! I don't like glowy finish that some bb cream gives as it makes the skin to appear oily instead of glowy. It did quite a good job in covering up some of my lighter acne scars but not my huge pores. Last but not least, the lasting power is about 3-4 hours before I need to blot and touchup. There isn't much oil control so I think it will be more suitable for dry to normal skin type.
All in all, it's a pretty decent bb foundation with a good amount of SPF and gives good coverage without causing any breakouts on my acne-prone skin, do give this a try if you are fair and has dry/normal skin!