Thanks to Channel U for my first event of the year! I was invited to Channel U's private screening last Friday at Swatow Seafood Restaurant for two upcoming food-related programmes, 《寻味地图》 A Taste of History & 《烧。卖》Served H.O.T. Everyone was treated to a special seven-course menu of local dishes, pictures shown below! :)
Attended the event with pretty Jocelyn!
Before the screening & dinner, Bryan Wong took the stage to host and introduce us to the cast of 《烧。卖》Served H.O.T. He is also the host for 《寻味地图》 A Taste of History! Although it was a rather short conference, the casts made it light-hearted and fun, especially when Lee Teng (his first time acting in a drama) was asked to act out a impromptu scene of him being angry at Ya Hui for buying the wrong underwear!
(Picture taken from Channel U facebook)
Picture of the cast and Bryan Wong with his custom made birthday cake from fans!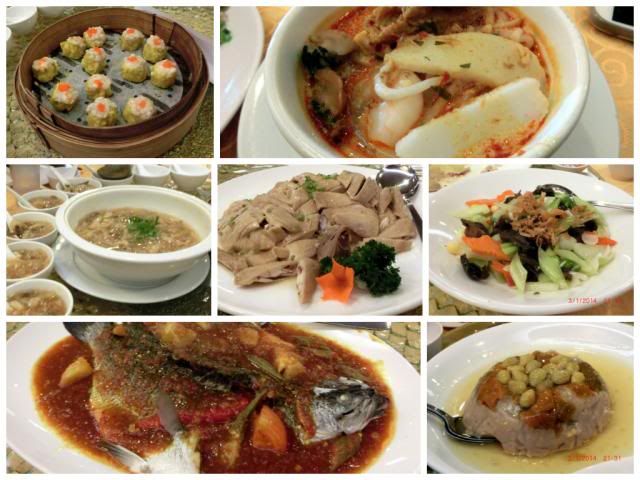 First episode of 《寻味地图》 A Taste of History & a trailer of 《烧。卖》Served H.O.T. was shown at the same time when our dinner is served.
Siew Mai with Fish Roe | Braised Crabmeat Fish Maw Soup | Steam Sea Bass in Teochew Nonya Style | Swatow Kampong Chicken | Wok Fried Vegetable Deluxe | Singapore Laska | Sweet Yam Paste with Pumpkin and Gingko Nuts
(Picture taken from Channel U facebook)
After dinner, there was a mini competition where artistes were assigned to different tables to wrap a popiah in a short time frame. We were allowed to help but as bloggers, we tend to find good angle to take pictures so Ya Hui who was assigned to our table had to do it all by herself. So guilty of helping but I'm glad she did pretty well by wrapping the nicest popiah and winning all the other artistes! :)
(Picture taken from Channel U facebook)
A group photo with the artistes and other bloggers at my table, resemble wedding dinner isn't it? :p
More information about the shows below! :)
《寻味地图》 A Taste of History is a documentary hosted by Bryan Wong, where he visits different parts of Singapore to feature selected local delicacies and learn more about the history behind that particular dish. This show differentiates itself from Channel U's previous productions as audiences get to know more about the stories forged by history and creators of that dish.
The first episode was played on that day, featuring dishes from Former Katong area, namely: Peranakan pastries, Taw Kwa Pau and Fried Hokkien Prawn Mee. I find it interesting and it did gave me a better understanding of the dishes served; will appreciate the local delicacies even more form now on. I'm looking forward to the next episode on Joo Chiat, the place I grew up in, would be great to learn more about the dishes there! :)
《寻味地图》 A Taste of History airs every Tuesday from January 7, 8.30pm on Channel U. If you missed the first episode, you can catch it online:
http://video.xin.msn.com/watch/video/episode-1/2efuq67yt
Listing of the places Bryan Wong visited for the first episode are up on Channel U
facebook
too!
《烧。卖》Served H.O.T. cast includes Ya Hui 雅慧, Aloysius Pang 冯伟衷, Ian Fang 方伟杰, Shane Pow 包勋评, Chew Chor Meng 周初明, Zhu Houren 朱厚任 and Lee Teng 李腾.
Synopsis
Nanyang Delicacies' is an established food stall on the lookout for someone special who can taste the distinctive flavour behind its signature Laksa dish. The one who has the correct answer will be rewarded with the Laksa secret recipe, worth a million dollars. Many have attempted but failed, until the day three boys in their twenties walk into the shop. Upon tasting the Laksa, they request to see the chef. From that moment on, their lives will never be the same again. Through the story of three ex-convicts and their entrepreneurial spirit and pursuit of love, the drama uncovers the heritage, secret ingredients and touching stories behind Singapore's favourite local delicacies. Combining the modern with the traditional, new flavours and recipes are created.
《烧。卖》Served H.O.T. airs every Monday - Friday at 10pm from 13th January onwards!
Be sure to catch these shows and don't forget to "like" Channel U
facebook
to receive the latest updates on various events and shows! :)