Beauty drinks/supplements are getting popular lately and if you're someone who prefer bottled beauty drink, this is something you should look out for! Mygenlife range of beauty drinks comes in 5 different kinds to cater to different needs: Collagen, Slimming, Detox, Whitening and Bustful. Thanks to SampleStore, I get to try out Beauty Collagen Nectar Drink!
It comes with an intensive formula to improve the water binder that help to keep your skin supple, radiant and firm. With skin sufficiently hydrated and depleted collagen levels regularly replenished. You can get wrinkle-free, rosy and supple look in just 28 days(may vary).
Main Ingredients:
- Collagen fish, 12,000mg )
This is the highest concentration of collagen in a drink. It ensure that your skin gets the maximum collagen it loses due to aging.
- Green Tea
This is rich in polyphenols that fight free radicals. The antioxidants present in Green Tea helps to slow down the aging process helping you look younger.
- Mangoesteen
Also known as the "Queen of Fruits " contains naturally occurring xanthones, antioxidants and many nutrients which are beneficial to your body and helps slow down the aging process.
- Optiberry
A unique blend of berries including blueberry, strawberry, cranberry bilberry, elderberry and raspberry to provide the maximum antioxidant for the whole body.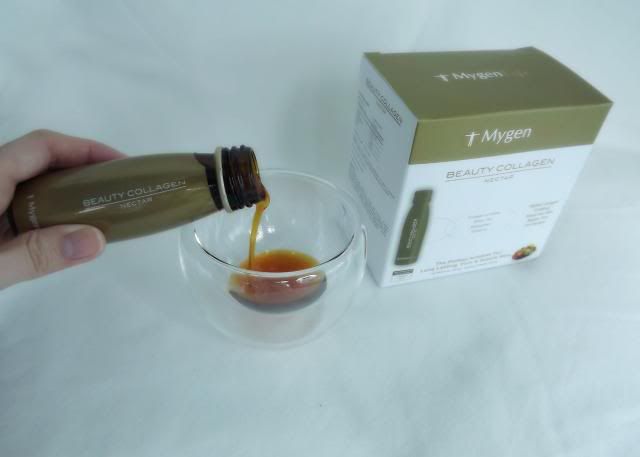 Each box comes with 6 glass bottled beauty drink that is convenient to consume on the go. The colour of the drink reminds me of Chuan Bei Pei Pa Gao - Chinese Cough Syrup!
Like I mention in my previous posts, I detest collagen drinks with fishy smell/taste. The beauty drink have a slightly thicker consistency and tastes mildly sweet with a mix of berries which I like. There isn't any fishy taste though the concentration of fish collagen is rather high. I would recommend to place this in the fridge before drinking as it tastes better chilled! :)
It's only my first bottle so there won't be any difference yet, shall take my beauty supplements diligently and hope to get better skin in the upcoming year! :)
It is available in Guardian and also online at
Hannah Holdings
for $49.90/box of 6 bottles! Alternatively, if you wish to try it first, you can log on to
SampleStore
to sample them first! :)