Collagen is a protein made up of amino acids that is essential for various connective tissues in our body. Once we're in our 20s, collagen levels start to decrease and collagen loss will hit its peak at the age of 25, which means there will be early signs of aging, loss of moisture, elasticity in your skin, etc! Moreover, harmful UV rays, stress, lack of sleep and other unhealthy habits can further worsen the situation. It's better to start early if you want to maintain the suppleness and beautiful skin you have now!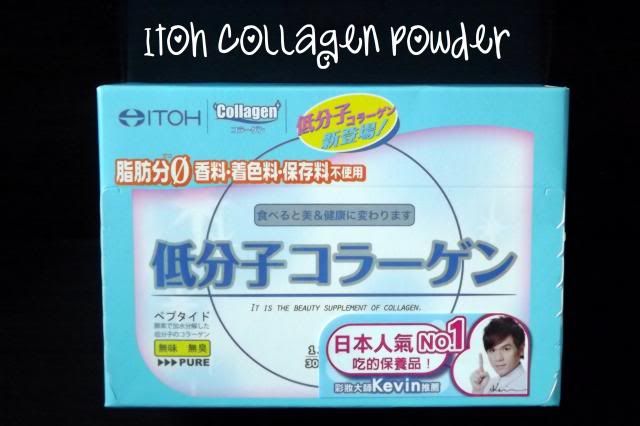 One good way to start will be consuming beauty supplements: a certain amount of collagen product in the form of powder, drink or jelly strips and today I'll be reviewing on Itoh Collagen Powder. It is colourless, odourless, tasteless, non-sugar and non-fat. Doesn't it sounds good? I have been avoiding collagen powder for quite sometime as the previous brand I tried had a strong smell which I disliked and made my drinks taste weird :(
Let's see if this passes the test of being tasteless & odourless!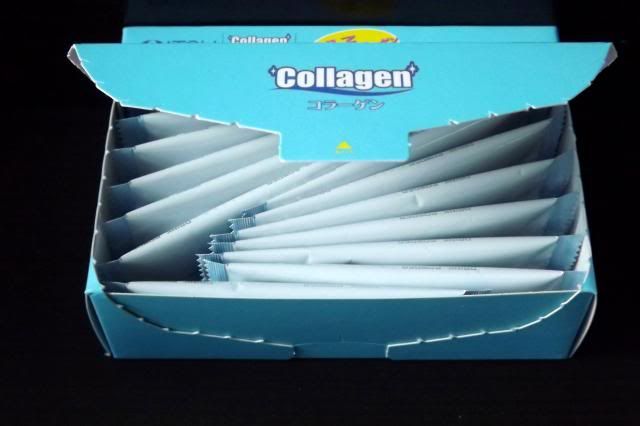 A box of Itoh Collagen Powder comes with 14 sachets, each sachet containing 3000mg of collagen powder. This particular product is manufactured in Japan and endorsed by Kevin 老师, my favourite Taiwan celebrity beauty guru! I went for one of his
talk/makeup demo
before and he's really friendly!
What's different about this collagen powder is the low molecular collagen molecules, extracted from healthy pigskin and cartilage tested by Japan SPF standard, with the fat and gelatin removed through high purification technology to ensure that it's safe and tasteless. The low molecular collagen molecules enhances the absorption of collagen, to capture all the benefits that collagen contributes, allowing results to be seen in 1-2 weeks (may vary between different people).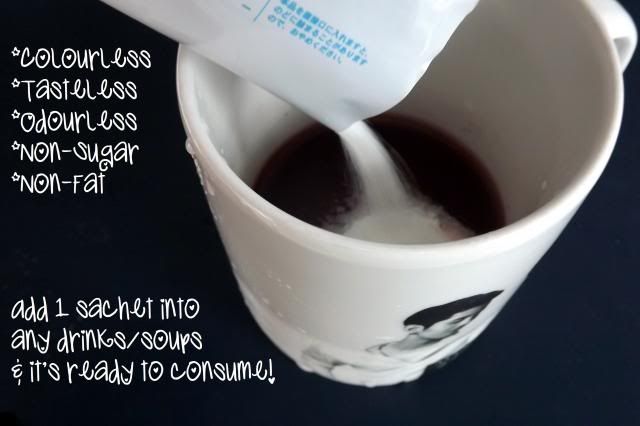 Time to try it out! As mentioned earlier, this can be mixed with any juice, drinks and even soups so I decided to add this to my pomegranate juice this morning. When I first opened it, I took a whiff and there wasn't any smell unlike the previous powder I tried. With that promising start, I mixed it with my cold juice which the powder doesn't dissolve entirely. I should have mixed it with my warm soup but then again, I can taste the powder directly to tell whether it is really tasteless. After a few sips with the undissolved powder, the taste of my juice remains unaffected and some of the undissolved powder that I consumed directly did not contain any taste at all!
I love that it can be mixed with any beverages and doesn't affect the original taste of your beverage and yet intake the suitable amount of collagen on the go with individually packed sachets. It would be advisable to mix the powder with a warm beverage or soup for it to dissolve entirely. And I think this can be consumed directly from sachet or mix with water since there's no odour or taste.
One last thing to mention, the collagen powder is non-halal and not suitable for vegetarians, other than that, it is suitable for any skin types and those above the age of 18.
Itoh Collagen Powder is available in Guardians stores at $49.90/Box of 14 sachets
Or you can try the first at
SampleStore
before you make your purchases! :)