Yes you read it right, fresh handmade cosmetics! Lush believes in making effective products from fresh, organic fruit and vegetables, the finest essential oils and safe synthetics. Their products are invented by themselves and comes with little or no preservatives/packaging! Thanks to Zoe for bringing me to the event; I got to learn more about their brand and experience how they produce one of their Christmas products: Rudolph Fresh Face Mask.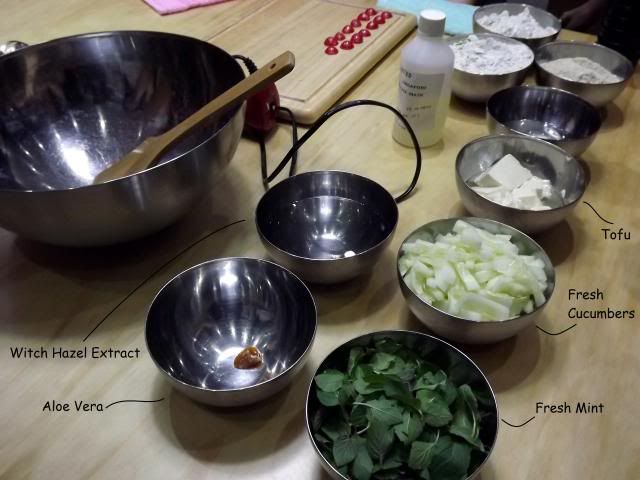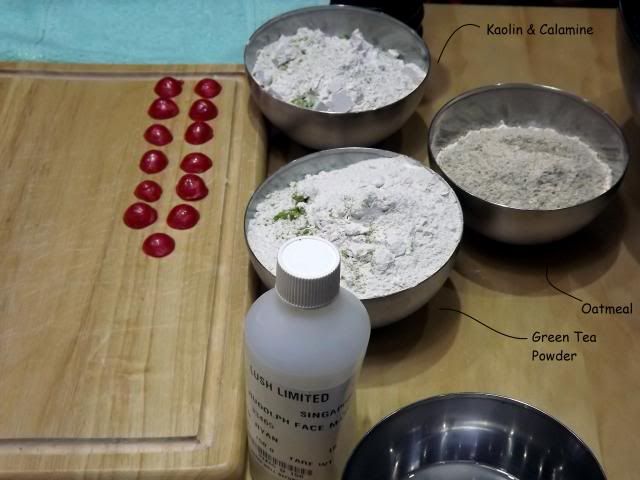 The exact ingredients used are all shown here, no additional preservatives and everything is fresh/organic! Most of which you can get from the market to create your very own mask too. I have yet to try out any DIY masks, will do this once I'm done with my exams!
Bloggers were asked to try out with the mixing of ingredients and it did take alittle more effort to do as the handheld mixer wasn't that easy to operate but I think Debbie and Ratna did pretty well. From this short demo, I appreciate how much effort Lush put into creating fresh handmade cosmetics to bring to their customers. They even mentioned that the vegetables used are fresh, organic without any usage of pesticides!
The end result of the Rudolph mask that each of us get to bring home! I can't wait to try mine out ;) This is one of their limited edition masks that is only available during Christmas season so be sure to grab this if have dry, irritated skin. The nourishing ingredients like calamine, lavender & oatmeal, soothes and softens your skin, while fresh mint and cucumber revitalize and replenish skin's radiance.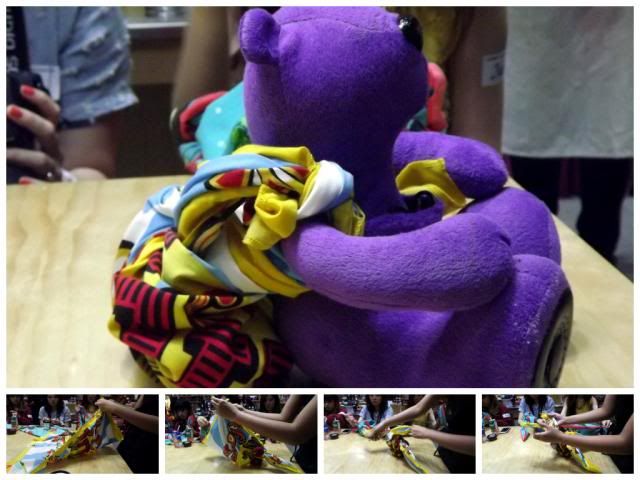 Following this, Lush taught us how to wrap our gifts in a practical way! Square pieces of cloth/scarf can be used to turn into functional bags such as the cute backpack worn by the bear in the above picture, It's a good way to save on unnecessary materials and the cloth can be used for other purposes too! A great gift wrapping method we can all use to reduce & reuse!
The day ended with this lovely goodies from Lush Singapore! Mine consists of the Melting Snowman, Star Light, Star Bright, Snowman Bath Bomb, Ponche and Rudolph Mask. All these Christmas goodies smell so good; lovely treats to pamper my skin on gloomy days or even on days that needed an extra boost! I can't wait to try all these out! :)
Melting Snowman is a bath melt that is designed to melt at body temperature, so when I got home it was in the state of melting, all soft and doughy, I had to put this in the fridge before it melts even further! It comes with blend of cinnamon and clove oils. The natural oils present in the melt will help to soften and moisturize skin.
Star Light, Star Bright is my favourite out of the bath melts/bombs! It's so pretty that I can't bear to use it; a shimmery star with shea butter fondant center that is rich and moisturising, creating a soft and creamy bath. It also comes with ginger and lime oil to give an extra boost to soften dry skin!
Snowman Bath Bomb is made with the same vanilla fragrance as
Butterball Bath Bomb
, containing cocoa butter which creates a moisturising, creamy soft bath that is great for nourishing and protecting your skin.
Ponche Shower Gel is a festive new shower gel with the fruit punch scent of petigrain, buchu and davana oils, and it does come with a shot of tequila which makes it even more interesting and helps to wake up your skin! This shower gel is good to soften skin while lifting up your mood on dull mornings with it's fruity, boozy scent; it could probably chase away your Monday blues too ;)
Wide variety of soaps, cleansers, shower gels, bath bombs/melts to cater to different likes and needs of customers. I'm already eyeing on some other treats once I'm finished with mine. One that I really liked is
Honey I Washed The Kids
; it's one of Lush's best selling soaps too. It comes with a sweet caramel fragrance that is simply irresistible, probably attract bees if you used that ;)
You have to drop by Lush Singapore at Wisma Atria or Suntec City if you haven't been there! I think these pampering treats would make good gifts for birthdays, anniversaries or special occasions too!