Bedok Mall, the first major shopping mall in Bedok located right in the heart of the town centre, opened its doors on 3 December 2013. The 220,000-square foot mall – about the size of Junction 8 – has about 200 shops spread across three floors from Basement 2 to Level 1.
Basement 2 of the mall will house everyday essentials, including FairPrice Finest, Popular, Home-Fix, Japan Home, Guardian and Watsons. This level has also assembled an array of quick bites to serve shoppers on the go, such as Gong Cha, Ho Kee Bao, Hong Kong Sheng Kee Dessert, Hot Star Large Fried Chicken, Smoothie King and Yoshinoya.
Located on Basement 1 will be a variety of lifestyle, apparel and family-trade retailers, including UNIQLO, Best Denki, Samsung, Sony Centre, Cotton On, Fox Kids & Baby, Kiddy Palace and The Travel Store. Level 1, positioned as the "chic avenue", will bring together home-grown and international fashion and accessories labels, including Cache Cache, Charles & Keith, Dorothy Perkins, G2000, Levi's, Net, Santorini and Wanko. -Details extracted from
Capitamallsasia
.
From far, the place may look half complete which is due to the Bedok Residences condo and Bedok Bus Interchange that are still under construction. I just hope there won't be any major incidents like JEM! The interior of the mall has been done up nicely with Christmas decorations but sadly only approximately 50% of the shops are open for business as of now.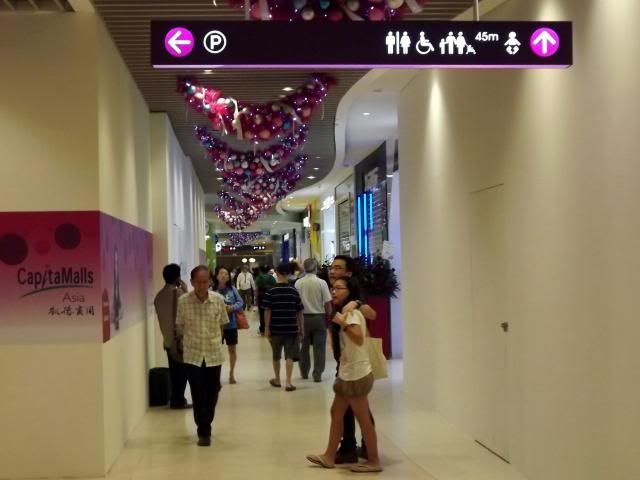 I was there earlier this morning and realized the mall is still pretty dusty from some of the last minute rushing through to get the shops ready in time for the Christmas crowd. I wouldn't recommend dining there just yet as the amount of dust in the air is quite frightening. It looks sort of misty especially at the Basement 2 level. A quick word with the staffs there confirmed that most shops should be completed and open for operations by 21st December where they will be having Late Night Extravaganza with some shops operating till 2.40am!
Anyway, there's several exciting stores to look out for! Listing out some of the brands that I'm can't wait to try :)
1. Greendot B2-27
Serves a variety of meat-free fast food prepared in Asian fusion style that is both tasty and nutritional. Estimated date of opening is 10th Dec. I've tried this sometime when they sponsored for one of the walks/runs(can't recall clearly). What I managed to try was a soya burger, it was cold when I tried it but still surprises me that meat-free food can taste so good. A healthier choice after a good workout! Looking forward to trying out the other items on their menu!
2. Junshin Express B2-20
Featuring healthy fruit and vegetable sushi on top of the usual range and with 80% of its sushi menu at $0.50 per piece! Will review this once they open their shop! PS. They are giving out 1 free sushi to the 1st 100 shoppers on 6th Dec so remember to grab yours if you're in the area ;)
3. Wing.Stop B1-53
A fast-causal US restaurant chain serving up buffalo-style chicken wings in 10 mouth-watering flavours. It's open for business already and currently they are having 50% off 2nd set of 6-pc Classic Wings Combo!
4. Scallop-Q B2-K7
A Taiwan-based brand servings up fresh scallops from Hokkaido, grilled in a secret in-house special sauce. One of my favourite seafood so I have to try this when it opens too! :) Based on their Malaysia store and deals, average price of a skewer costs $2 for 3 scallops (that's promo price btw).
5. Paik's Bibimbap 01-95
Created by renowned celebrity Chef Jong Wan Paik, this fast food concept offers healthy Bibimbap and Bibim noodle combinations. Finally a proper Korean food outlet in Bedok, one of the upcoming places to review.
Other 7 news brands include: Sembonia, Roem, Refresh Laser Clinic, Faces of Spade, Ottoman Kebab, Guan Chee Hong Kong Roast, Pho Street.
Additionally, there is an extensive list of established restaurants setting up shop at Bedok Mall, including Canton Paradise, C-Jade HK Café, Dian Xiao Er, Din Tai Fung, Itacho Sushi, McDonald's, Menya Musashi Takatora, Pizza Hut, Pepper Lunch, Poulet, Ramen Play, Starbucks, Swenson's, Tim Ho Wan and Thai Express. It would be so much more convenient for East siders to get their fill of food without having to travel down to crowded Town areas! :)
One last thing before I end off, be the first 1000 to sign up as a Capitastar member and get $10 capitavoucher! Next 500 would receive $5 capitavoucher, don't miss it :)