ASOS is one of United Kingdom's largest independent online fashion and beauty retailer, offering over 50,000 branded and ASOS labelled product lines across womenswear - including dresses, shoes, jewellery, lingerie and beauty - and menswear, including jeans, t-shirts, shoes. ASOS ships free worldwide too!
Do you have this website bookmarked too? I actually noticed this brand a long time ago but I didn't have a chance to get anything from ASOS until last month! Even though there is a wide variety of choices, I would usually go for sales items which are more pocket friendly for students like me. One bad thing about shopping just for sales merchandise is that smaller sized apparels I like will usually be sold out first!
Being skinny and tall, it's difficult to get clothes that fit and look good on me so when shopping online I relied on other people's reviews or in this case, the catwalk videos. ASOS stood out from most of the other online retailers by providing easy to navigate site, fit visualizer, catwalk videos and last but not least free international shipping without any minimum spending! The fit visualizer allows one to input the measurements of their clothes to see the different sizes against their own before deciding. If that didn't work, one can watch the catwalk video to see if that particular item will look good on them or see how the material flows, etc. These catwalk videos helped me eliminate quite a bit of items too!
My very first purchase was a pair of jeans: ASOS Ridley Supersoft High Waisted Ultra Skinny Jeans In Bleach Out Wash UK6. It took about 3 weeks to reach my mail box, which was acceptable considering it's free shipping from United Kingdom. The jeans were well-packed in a waterproof resealable bag with an order notice, return note and asos flyers.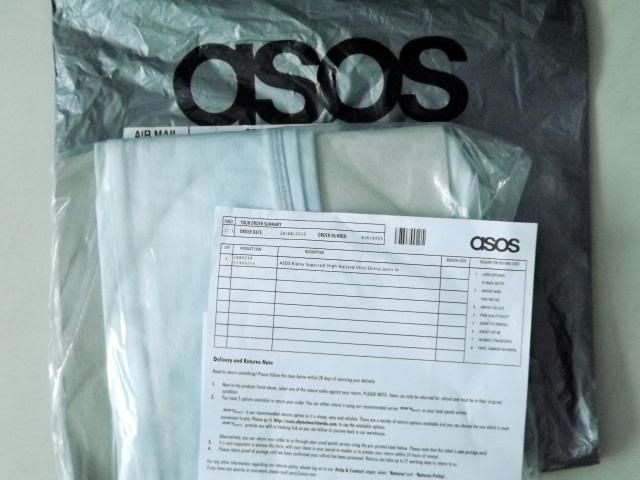 The material of this pair is slightly stretchy, soft and comfy which would be a good fit if the waist area is smaller. Turns out that the UK6 cutting is slightly bigger by at least an inch, so I needed a belt to get a better fit. It doesn't look good from the side though, seems like I had a tummy :( I'm considering letting this go to make way for clothes that would fit me better! A picture of these pretty jeans: