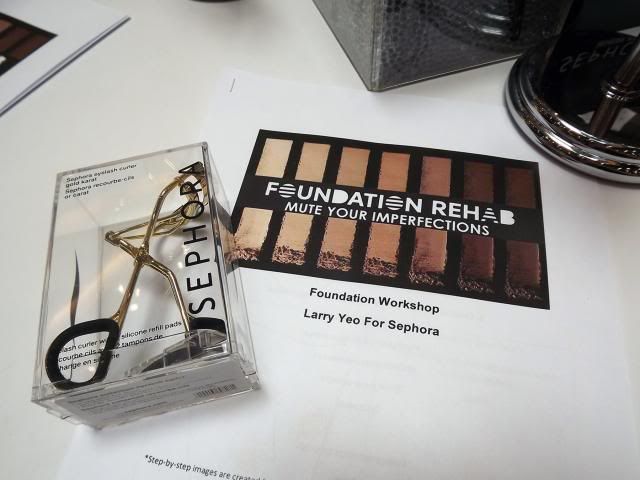 Last Sunday, Foundation Rehab Workshop, a joint event by Sephora and Channel 8, was held at Bugis + atrium area. Thanks to Channel 8, I had the opportunity to attend this exclusive makeup workshop presented by Larry Yeo. Larry Yeo is a renowned makeup artist, so glad to see him there! He shared his knowledge on the products and taught us techniques in achieving flawless look with the use of Sephora line products and I learned lots of useful tips which I will be sharing later in this post too.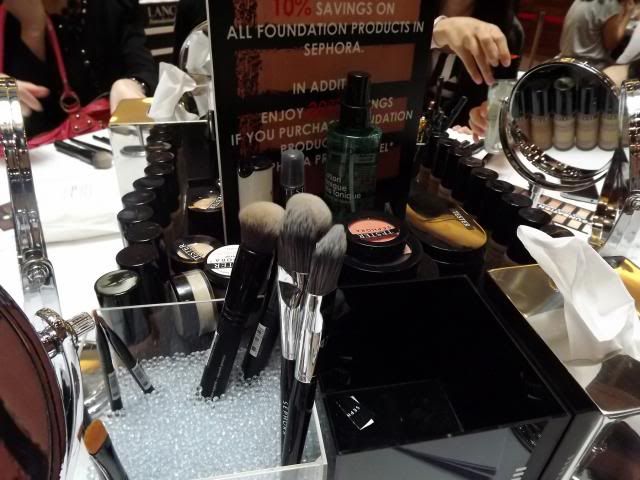 Each of us were given a set of brushes to use and a range of Sephora products to share. It was my first time trying Sephora products so I was pretty excited about the overall look I can achieve with them! Ashlyn was really lucky to be selected as Larry's model. She got great skin by the way, I think she don't even need makeup!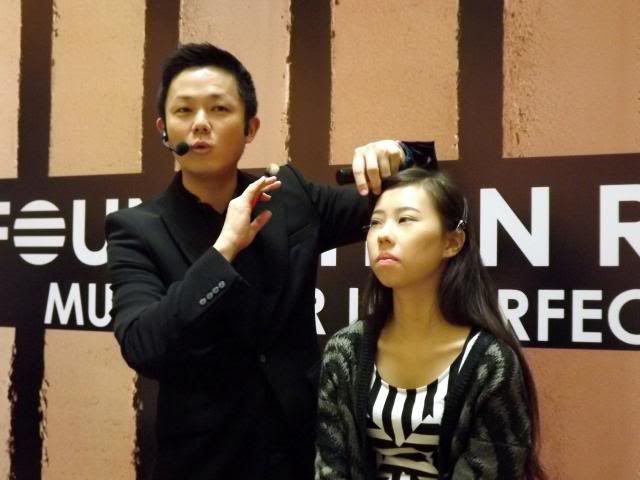 Throughout the workshop, Larry gave step by step instructions then let us try it out with Sephora products and the beauty counter staffs from Sephora would be around to guide us if we missed out any steps. I felt that the staff appointed to our table wasn't very helpful, I had to turn to my friend who gave me better answers than her.
These were some of the products I tried: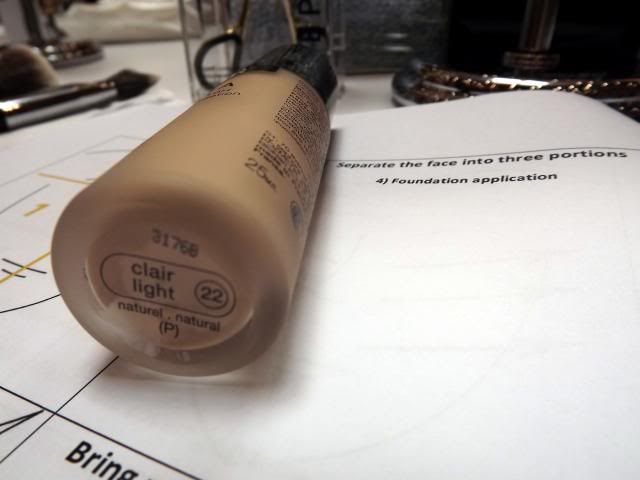 Sephora 10HR Wear Perfection Liquid Foundation in 22 Clair Light
A short review of the product: I like how lightweight this feels and the matte finish it gives after applying. The consistency isn't that thick so it is buildable if you want a better coverage. In terms of lasting power, I think it did quite a good job, lasted for at least 6 hours or could be due to the weather being cooling so don't have to worry about the makeup melting. However, this doesn't have any oil control properties so I have to blot almost every 2 hours but no touch ups were done after that and it still look natural without being cakey.
Sephora 8HR Perfect Cover Concealer in 25 Medium
A short review of the product: Yes, it does look yellowish but once applied, it blends well so no worry about the patches. I didn't like this much as I didn't see a difference after using it. The coverage is buildable but it doesn't conceal my acne scars.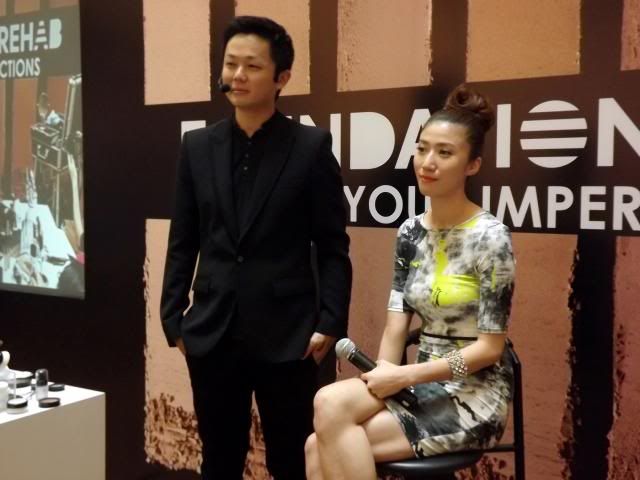 Kate Pang was the special guest on that day and she shared tips with us on her makeup and skincare. She is really pretty in person and much skinnier than what we expected! Sadly we didn't managed to take a picture with her as she hurt her back so her manager was rather protective of her.
Here's a photo of us! :)
_
Moving on to the makeup tips! Added some simple pictures of my own to better illustrate the points, pardon my horrible skin and face :x
To start off cleanse your face, tone and moisturise it well before starting on your makeup. This helps your skin to be protected and hydrated while ensuring that your makeup is more even and long lasting once applied.
1. Primer
Smooth out your skin texture with primer to prep your skin for the various makeup steps to be followed. Apply to tzone, eyes area, it helps to reduce the look of large pores and makeup tends to be applied more easily, appear more vibrant(in terms of eyeshadow) and lasts longer on skin. If you have oily skin, you can use those with oil control properties or if you have redness/uneven skin colour, use one with tinted shades that usually comes in pink, green and purple to help correct the colour or even out skin tones.
2. Foundation
Larry taught us to separate our faces into 3 parts before application; concentrating on each different part instead of dotting the liquid foundation on face then spreading out afterwards. I'm guilty of doing that step as I thought it would be easier but he mentioned that when we work on one side, the other side might cause foundation to dry up and cause uneven patches.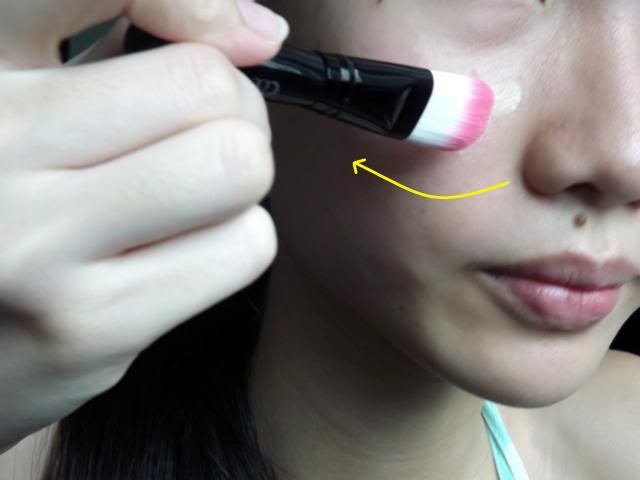 Sorry if my face scared you. Lol.
After you've decided which part to start on, always apply your foundation from inside out in light strokes. For me, I start on the side first so I apply from the inner corner of the eyes then move outwards. I find that the foundation is more evenly spread out when I use the foundation brush instead of my fingers.
3.Highlighter
This step helps to bring more dimensions to your face, parts to be highlighted includes: temple, tzone, under eye, upper & lower lip areas. With the same foundation brush, use a lighter shade and in my case I used CC cream to illustrate; Larry showed us to dab a tiny inverted triangle under the eye area to help with the overall look of creating a v shaped and more lifted face.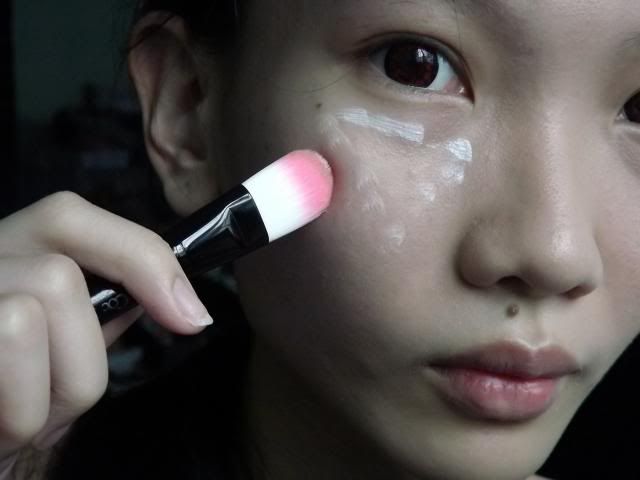 4. Concealer
Conceal when needed, usually areas include under the eyes, on blemish marks, red patches or pimples.
Most people are concerned with dark eye circles so Larry guided us to a method that will keep the dark circles hidden and yet not look too thick/cakey around the under eye area.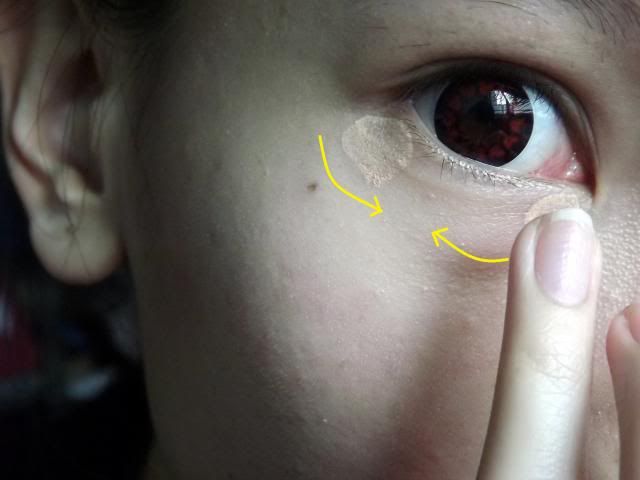 I have big eye bags and Larry told me there is no way to conceal them 100% :'(
Anyway, dab the concealer at the inner and outer corner of your eye first then, work it from in to out and out to in, with tiny dabbing motion to keep it well blended into your makeup.
5. Loose Powder
Set loose powder only to certain areas and in most cases, the oilier areas. There is actually no need to puff up your face with loose powder which is what I would usually do as it may seem excessive and cause the makeup to look thick on your skin. By lightly adding some loose powder to tzone, nasal fold, upper/lower lips, it helps to control the oil and still keep your makeup looking light and natural.
6. Contour
Recommended if you want more depth to your face. Unlike our western counterparts, Asians do not have well-defined features so contouring is needed for the v shape look. Feel your bone structure before you start. Using the powder brush from step 5, deposit some product on the brush then dab 2-3 times on the back of your hand for the powder to adhere onto the brush before sweeping it from your ear to the just under your cheekbone area.
I don't have the powder for contouring so I skipped this step!
7. Blusher
Last step for the list, brush upwards from where contouring is done and viola, the basic makeup is done! :)
You can go on to do use colour products to enhance the whole look, hope my post helps!