It's an exciting month for Lovemore & Sexylook as they launched 2 new ranges of products: Lovemore eye masks and Sexylook 4D masks! These new ranges are packed with even more goodness than before to pamper one's skin with its fine selection of ingredients.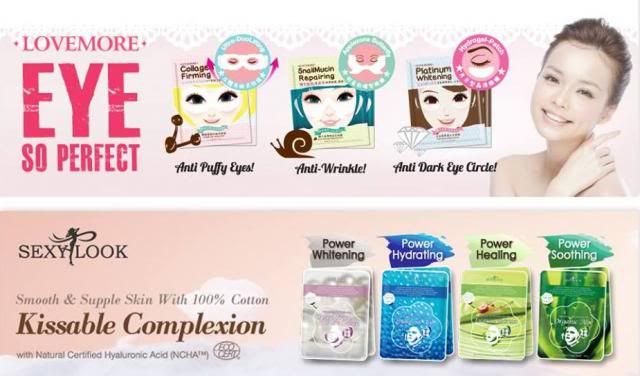 Lovemore introduces a new range of eye masks to prevent puffy eyes, winkles and dark eye circles. With the increasing time spent on our electronic gadgets, we put immense strain on our eyes. While our digital gadget can work 24/7, our peepers could definitely use some tender loving care. It is essential to take extra care of the eye contour as it is the most delicate area of our skin and you can trust these eye mask to help you with the job!
Did you notice the unique shape of masks for anti puffy and anti winkle? It comes with a unique cut to fit and address the problem areas more effectively!
Moving on, Sexy Look is back with brand new power mask! It is made of 100% cotton and elastic fibre woven, with the finest selection of ingredients to address each skin problem. Good skin starts with good care. Even better, care with Sexy Look 4D Duo Lifting mask!
Thanks to Secretive SG, I was given Sexy Look Escargot Extract Intense Healing 4D Mask and Lovemore Collagen Eye Firming Patch to review. This review will be on Escargot Extract Intense Healing mask as I have not tried the eye patch (updated on 1st oct)
so that will be updated at a later date
!
Sexy Look 4D masks are set for effortless skin pampering with innovative mask design doubled with the finest ingredients. The double lifting mask is now more elastic, soaked with 30ml of NCHA infused essence to maximize your facial care power.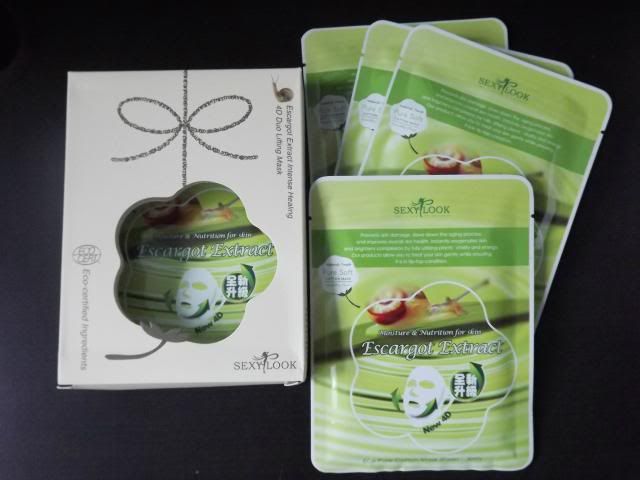 Sexy Look Escargot Extract Intense Healing 4D Mask
Infused with escargot mucin and masterwort extract, this mask is made for intense skin repair. The moist-lock ions ensure that skin is kept hydrated for maximum healing effect.
Snail-related skincare products are rapidly increasing after many experienced the benefits of using these products and I'm one of them. Imagine my excitement when I saw Sexy Look new range of masks containing escargot extract as they are my favourite Taiwan brand for masks!
A pleasant scent whiffed through the air as I opened up the mask which was well-soaked with essence infused with escargot mucin and masterwort extract. I was worried that it would drip in the process of using it but it didn't, I could walk around and get my stuffs done while pampering my skin in the morning.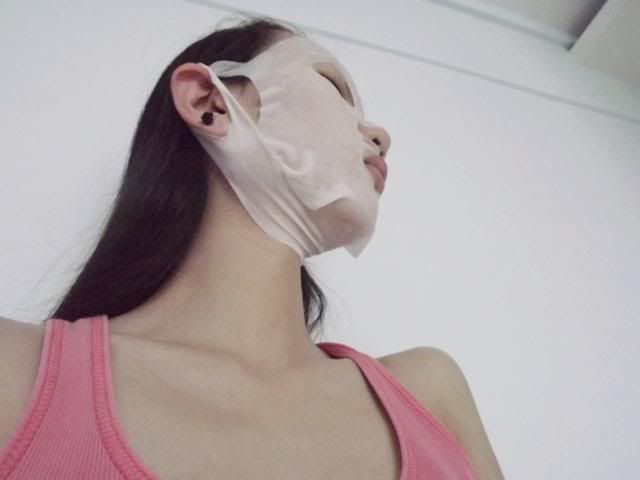 The 100% cotton mask is stronger and less prone to tears; to be able to stretch and fit one's face. It comes with 2 loops that helps to lift your skin as well as keeping the mask in place. The mask fitted quite well on my large face but if the flap for the nose area was slightly bigger, it would be perfect.
After 10-15 minutes, I removed the mask and gently massaged the remaining essence into my skin. My skin appeared more moisturized and the essence was quickly absorbed into skin to leave a matte finish that's good for makeup thereafter. I chose to use this mask in the morning for a quick pampering and it's a great start to that day too. Unlike normal days where my skin get oily within one hour, the essence actually helped to kept my face matte for a slightly longer period. Mad love for this new range!
Lovemore Collagen Eye Firming Patch
It helps to improve our skin elasticity with extra boost of collagen. With additional ingredients such as marine collagen and green coffee extract, it can instantly boost our eye contour youthfulness. Here are some of the main ingredients:
Firming – Marine Collagen, Peptide Complex Pepha Tight
Dehydrating – Co Q10 & Green Coffee
Moisturising – Nano-Hyaluran & Vitamin E
Unlike the usual eye masks that comes in 2 patches, this unique cut which reminds me of Batman is specially design with ear hooks for ultra-lifting effect plus keeping it in place while you multitask!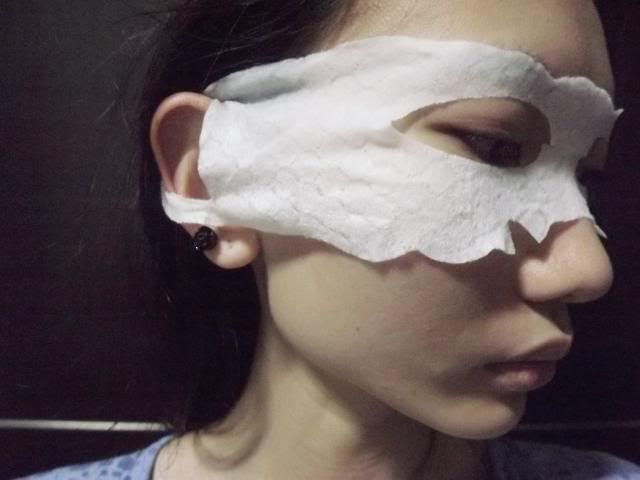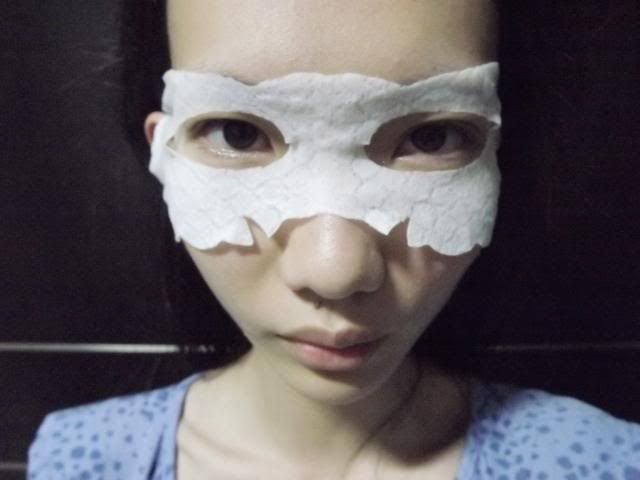 Yes, please ignore my huge ears & nose, just focus on the eye mask! With the ear hooks, it stretches out the mask evenly to prevent air bubbles in between so you don't have to smooth out the mask at all. It is best to use this after you've cleansed your face so the skin will be ready to take in "extra supplements", in this case will be the eye area to get youthful looking eyes!
I like putting it in the fridge before using so there's an extra cooling effect which can help to ease the puffy eyes and gives a relaxing treat to my eyes. It didn't give obvious effect with one use but if you can use it consistently, at least once a week and avoid sleeping late, there should be lesser problems with puffy eyes or dark eye circles! Do give this unqiue mask a try ;)
Find out more about these masks from
Lovemore's Facebook: https://www.facebook.com/LoveMore.sg
Sexy Look'x Facebook: https://www.facebook.com/SexyLook.sg
& Do "like" Secretive for more updates & new products; they have an extensive range of products! :)
Secretive's Facebook: https://www.facebook.com/secretive.sg
Secretive's Twitter: https://twitter.com/secretive_sg