It has been a while since I last posted reviews on products I bought from Daiso! The more I step into that store, the more money I spend. Everything is priced at $2 and it seems useful in some way so I can't control myself from grabbing them and putting them in my shopping bag. I had to avoid entering the store in order not to overspend on stuffs that I might not actually need!
Today's review is one of the stuffs that I don't actually need. I still have enough product to last me for awhile as I don't apply much makeup most of the time. Anyway, back to the item, I have been curious about the lasting power of eyebrow powders and I think this is a new product from Daiso since I haven't seen it before so I decided to get one to try. I didn't know that this comes in shades and I was rushing on that day so I just grabbed the first one I saw; glad the shade looks fine on my brows.
I did some trimming of my brows with the use of the eyebrow template and shaver (both from Daiso) which I bought quite sometime ago. It wasn't perfect so don't pay too much attention to the shape of my brows later on!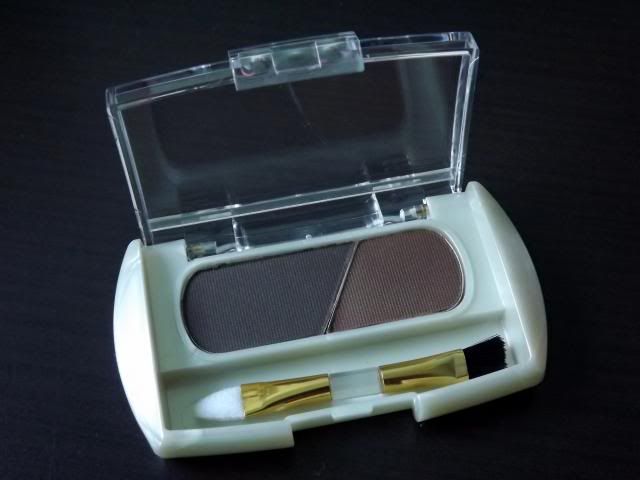 The set comes in a compact plastic casing with 2 shades and a tiny brush to apply and blend. It is easy to apply even with the brushes provided and the colour is buildable. Surprisingly, it took me much lesser time to draw my brows as compared to the eyebrow pencil that I'm using currently. The staying power is acceptable too though I only tried it for 6 hours. I have oily skin and the weather that day was rather cooling so it didn't cause my makeup to run and managed to look the same when I got home with no obvious fading.
Pardon my huge face, the only products I had on my face that day was Etude House CC Cream(which I will review soon) and Daiso Eyebrow Powder. The picture on the left is how I look when I left my house in the morning so the lighting was better for pictures. I love how the colour blended well with my brows, making it look natural even though I didn't use a spoolie/brush to soften them. Then for the picture on the right is after I used makeup wipes to remove my makeup as I forgot to take a comparison picture before I left house and it was getting dark so the quality of picture was rather bad when no flashlight was used.
I would be getting the eyebrow coat next! I've seen good reviews for that to keep the drawn brows from fading even underwater! I wonder if it's true :p