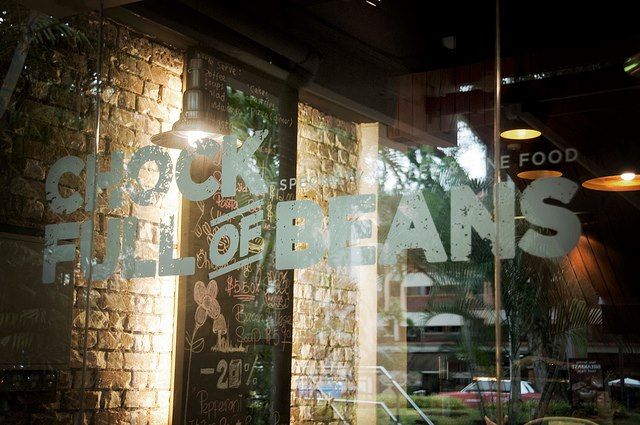 (Image taken from CFOB Facebook)
Chock Full of Beans
Blk 4 Changi Village Road #01-2090, Singapore 500004
This cafe has been raved by many and I finally had the chance to try it on Friday with my lovely girlfriends! Changi Village isn't somewhere I would usually go as it can be rather inconvenient if you don't drive; but it's better than going to Town where it's always packed with people. This area is much quieter and there wasn't much crowd on a Friday evening.
The cafe is tucked in a corner along a stretch of shops and was rather quiet for a Friday evening. Initially, I was worried we couldn't get seats for the 4 of us as no reservations were made. We got there at around 7.30pm and the place was only 40% filled. It looked smaller than what I imagined but it was cosy. The staffs were alert and friendly; allowed us to change our seats though the place was slowly filling up by 8pm.
I find the prices rather steep, ranging from $16-$18 for a pasta and considering that the cafe wasn't located in a town area. There were limited choices for dinner, only pasta or pizza as I find that sandwiches weren't that filling and I didn't find much reviews on their dinner menu too.
After much consideration, I went with Spaghetti and Beef Meatballs while my girlfriends ordered spaghetti with seafood and poached egg respectively. I can't remember the exact names of the dishes and I forgot to take a picture of the menu! How forgetful of me. As for our drinks, we each ordered Hazelnut Latte, Caramel Macchiato and Honey Matcha Latte. What drew me to the cafe was the latte art and they did what we requested which really made my day! :)
From left, Caramel Macchiato, Hazelnut Latte and Honey Matcha Latte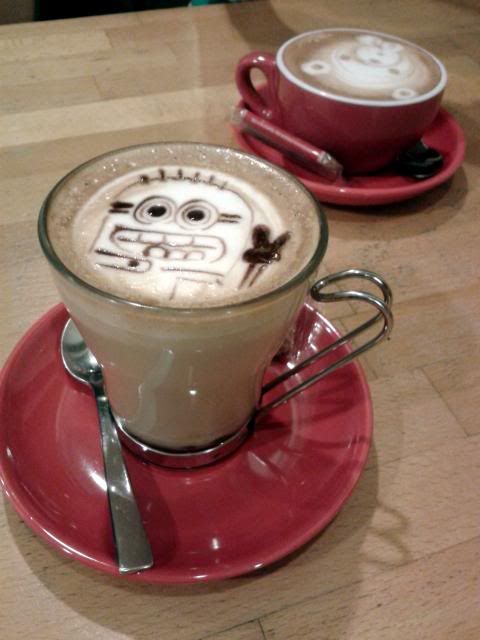 Another closeup of my Caramel Macchiato, with the adorable minion :)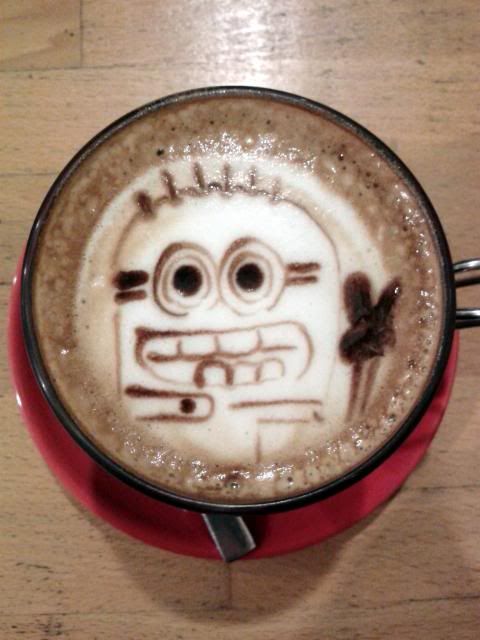 Everything was served within 15 minutes which was really fast; here's a picture of our food with the drinks!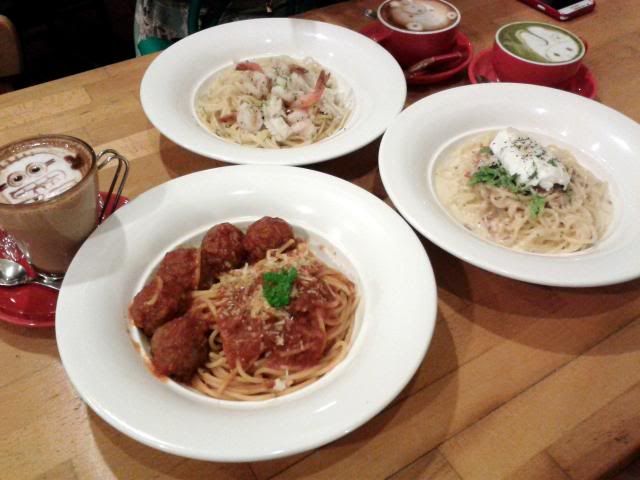 My set: Caramel Macchiato ($5.50 regular) and Spaghetti with Beef Meatballs ($17)
The spaghetti with beef meatballs was surprisingly good. I didn't expect much from this as the previous one I had at Pasta Mania was a disaster. The spaghetti was well-cooked, not too hard or soft and mixed well with the sauce. Beef meatballs were the highlight of this dish and it was cooked to the right texture, not too dry and it was really good with the spaghetti; thinking of it makes me hungry. It's like the more you eat, the better it gets. The food were of a right portion to fill you but not to the point you will get sick of eating it.
As for the Caramel Macchiato, I have to say it disappointed me. The sweetness was just right but it tasted like normal instant coffee with milk. I guess I didn't make a right choice as my gfs love their coffees. I shall try something else the next time I'm there for brunch!
Overall, it was a good experience, from friendly staffs to cosy area for good food and coffee. The latte arts are just so irresistible; I'm already thinking of what I should get for my next trip!