*Quick Update
From now till the end of July 2013, join L'Oréal Paris Hair Expertise in its Sulfate-Free revolution by trading in any of the bottled hair care products(empty bottles accepted too!) that contains sulfate for a 59ml bottle of L'Oréal Paris Hair Expertise shampoo and conditioner at selected retail outlets! Call L'Oréal Paris Customer Service hotline at 1800 838 3388 for more details on the participating outlets ;)
I'm sure many of you have seen the advertisements of L'Oréal Paris' latest range of shampoo and conditioner on various media platforms, especially on Youtube. I'm really excited when I got to know about
L'Oréal Paris'! I've been looking around the longest time for a shampoo that is sulfate-free and available in Singapore at a affordable price range.
Many people have the misconception that rich foamy shampoo is necessary for cleansing the scalp but the truth is sulfates, the foaming agent found in most shampoo, can aggravate scalps and damage hair fiber. Long term usage of this increase the sulfates deposit on your hair and scalp which causes hair to weaken and break easily.
Shampoos with this harsh chemical detergent causes healthy hair becomes dry and hair colour becomes dull. Hair fibers become weak from lack of natural essential oils and eventually break. Those with sensitive scalps, especially, are susceptible to flaking and dryness, which can cause itchiness and scalp acne.
The main aim of these detergents are to completely encapsulate dirt and all oils, including the good ones so that water can wash it away. In fact, sulfates are actually used as the baseline standard irritant for sensitive skin, meaning that all other irritants to the skin are tested against it.
L'Oréal Paris, recognized by women worldwide as the leading expert in hair care, zeroed in quickly on the problem by providing premium sulfate-free options for consumers. L'Oréal Paris Hair Expertise is one of the first affordable, high-quality ranges with a 100 per cent sulfate-free ingredient list, allowing this revolutionary hair care system. The Hair Expertise range includes four specifically formulated products for every hair type to ensure beautiful hair without chemical harshness: EverSleek (smooth hair without the heavy additions), EverPure (protecting coloured hair for a longer-lasting colour and a healthier scalp), EverStrong (strengthening weak and brittle hair) and EverCreme (nourishing and restoring lost moisture to dry hair).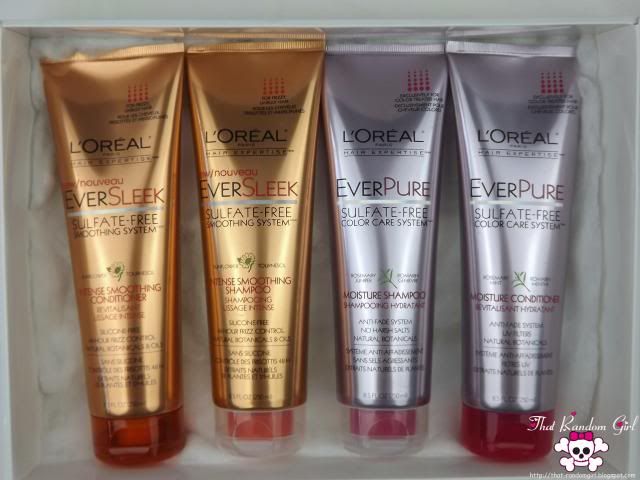 I'm currently using: L'Oréal Paris Hair Expertise EverSleek, which promises Smooth Hair without the Heavy Additions. This EverSleek range is perfect for hair that is frizzy and damaged due to hair styling or colouring. My hair tends to be dry and frizzy due to hair styling and major colouring in the past. After using this, I see an improvement, lesser breakage and hair fall as compared to before! My hair appears to be softer and more manageable in terms of lesser tangles and easier to comb through.
The lack of sulfates, as well as silicones and parabens allow my hair to be softer and silkier for longer, with its infusion of botanical Argan Oil, Olive Oil and Sunflower Oil. It also helps to prevent the buildup of sulphates, restoring my hair's natural moisture. Both the shampoo and conditioner has a pleasant fragrance which lasts throughout the day, making me love this range even more! :)
Despite the lack of harmful sulfates, this shampoo still foams up well and cleanses my hair thoroughly without stripping the essential scalp oils or moisture! This is my holy grail haircare range now! Thanks L'Oréal Paris for releasing this in Singapore and allowing me try this range :')