Cleanse & Improve. 1 minute is all you need.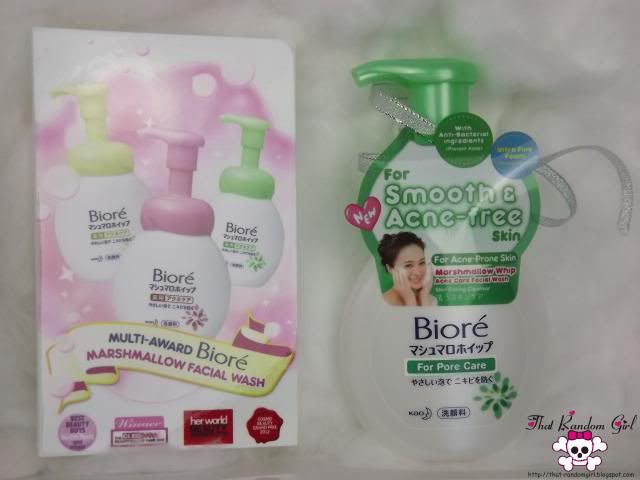 Thanks Biore for sending me this product that I've been wanting to try for quite sometime! After using
Biore Facial Foam
, I fell in love with Biore cleanser range of products as it does help to control my pimple outbreak so nowadays I don't have much problems with that; only during that time of the month! Among the different cleansers products, I find that Marshmallow Whip series is good in cleansing the skin thoroughly without stripping of the skin's natural oil.
The foam for this series is so refreshingly light and bouncy that one would enjoy using to cleanse the face daily. Besides leaving the skin fresh and clean, there will also be a nice scent that follows; one of the many reasons why like Biore cleansers too!
One of the problems that I encounter with my skin condition will be enlarged pores which is easily for dust and impurities to be trapped and in turn causing pimple and acne. With this Marshmallow Whip, the foam particles are small enough to cleanse the pores and prevent any excessive dust/impurities to decrease the chances of pimple outbreak.
With just one pump, it dispenses just the right amount you need to cleanse your face. The ultra fine foam could be applied across the face smoothly while cleansing. It's gentle on the skin as it prevents excessive pulling and tugging of the skin when you massage the face in circular motions to cleanse. With the Marshmallow Whip dispenses foam for cleansing, you don't have to lather and spend effort & time to generate the same type of foam yourself!
I love how my skin feels once I cleansed it with Biore Marshmallow Whip Facial Wash; the softness and supple skin makes me look forward to using this twice daily!
Oh and before I end off, I would like to include this chart of the new improved benefits of Biore Marshmallow Whip Facial Wash which gives you even more reason to use it ;)