Give your skin the royal treatment today! Bio-Essence, one of the most established and popular skincare brand in Singapore, has recently launched: Bio-essence Royal Jelly + ATP Shape V Face Series and I'm glad I got to try them out. This series include:
1. Deep Exfoliating Gel with Royal Jelly + ATP
2. Radiant Youth Essence with Royal Jelly + ATP
3. Face Lifting Cream with Royal Jelly + ATP
These are improved versions from Bio-Essence earlier series with addition of royal jelly and ATP. Royal Jelly is naturally-derived; one of the most commonly used ingredient in beauty products that helps with nourishing skin, anti-aging, improving skin's condition and it is also found in health products as this is known to be beneficial to woman's health. As for ATP, it stands for Adenosine Triphosphate, the main energy source for the majority of cellular functions that helps to supply/communicate energy to skin cells, resulting in skin renewal.
1. Bio-Essence Deep Exfoliating Gel with Royal Jelly + ATP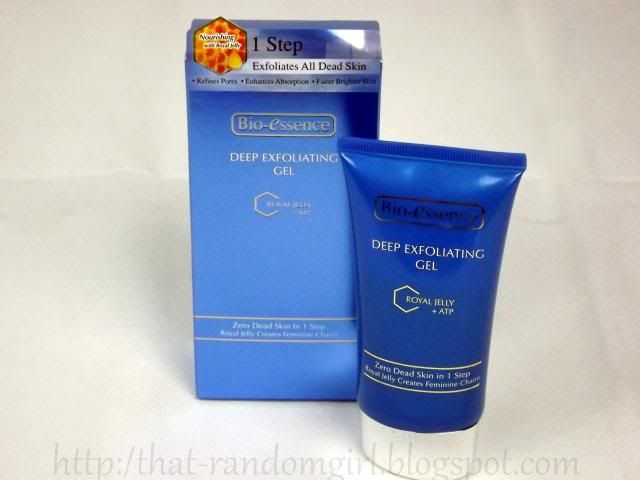 Bio-Essence Deep Exfoliating Gel with Royal Jelly + ATP aims to provide you with zero dead skin in just a single step. Unlike most exfoliating products, this doesn't contain mirco-beads so it's much gentler and suitable for daily usage!
Benefits of using this:
Gently & painlessly exfoliates out blackheads and white heads
Exfoliates away deep layer of dead skin for better absorption of subsequent skincare products
Brightens dull skin, makes dry and rough skin softer and smoother
Regulates and balances oil secretion
Helps prevent pimples
Helps lighten scars and pimple marks
Improves skin texture for a refine and fair complexion
Makeup glides on easily, lasts longer and looks more natural
Exfoliation is one of the essential steps in a skincare regime as it can help to remove dirt and impurities; in turn helping your skin absorb the nutrients of the other products followed (eg: moisturizers and serums). It is good to use this product after a long day at school or work to remove that layer of dust/dirt/impurities that has accumulated during the day.
To use this more effectively, ensure that your skin is dry, don't have to wet your face before this, and apply an adequate amount on skin before rubbing it in circular motion until small flakes of dead skin and dirt appear. Rinse off with water and follow by a cleanser.
I like the fact that this contains no micro-beads so I don't have to worry about rubbing too hard and harming my skin. Despite that, it still exfoliates my skin well, leaving a light fragrance and slightly brighter skin once it's done. It does prep my skin well for the steps to follow; if you worry about exfoliating too often, you can use it 2-3 times a week too :)
Retails at: $32.90 Size: 60g
2. Bio-Essence Radiant Youth Essence with Royal Jelly + ATP
Bio-Essence Radiant Youth Essence with Royal Jelly + ATP contains 95% green tea extract which provides superior anti-oxidant property to protect the skin against signs of ageing. It intensively nourishes skin and locks in moisture, leaving skin smooth and supple.
Benefits of using this:
Hydrates skin and locks in moisture to prevent dryness and keep skin supple and hydrated
Rich in anti-oxidant property to protect skin against harmful free radicals
Reduces signs of skin aging
Ideal to be applied in cold weather where the air is very dry
Radiant Youth Essence with Royal Jelly & ATP is clear and in a light liquid form which may appear slightly oily when applied but it is absorbed into the skin within minutes, leaving it soft and moisturized. I have been a fan of essence & serums ever since I started using Its Skin Power 10 series and Bio-Essence is my new fav product! :) This can be used twice daily: once in the morning and once before you sleep. It can also be applied to hands and legs for a fairer and more radiant skin.
The packaging of this product is convenient as it comes in a pump bottle and 2 pumps will be enough for your face! I like the light texture of this essence as it allows easy application and can be gently massaged into skin for not only face but body as well.
Retails at: $38.90 Size: 40ml
3. Face Lifting Cream Bio-Essence Royal Jelly + ATP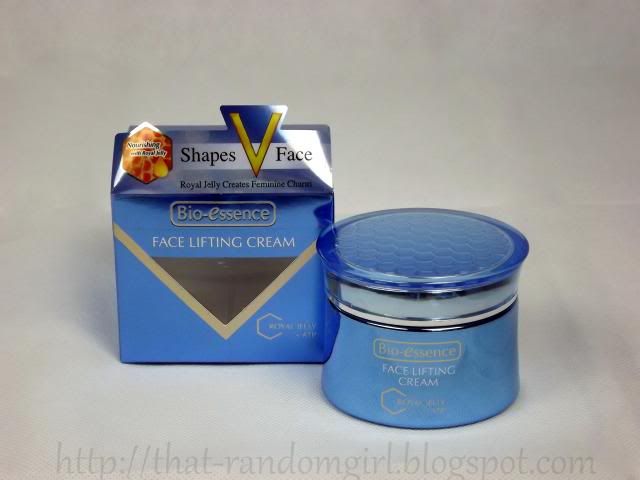 This is one of the highly raved Bio-Essence Face Lifting Cream which claims to slim and shape the face by firming the facial contour. Each box comes with a free measuring tape for you to measure your face for the results after application!
Benefits of using this:
Lifts facial contours
Firms sagging skin
Reduces double skin
Contracts pores & refines skin
Reduces appearance of ageing line
Deeply nourishes & moisturizes skin
Reduces visible fine lines & wrinkles
Shapes V face, enhancing feminine charm
The cream has a slightly thicker consistency but feels light upon application and is suitable for daily usage and can replace your daily moisturizer. I find it abit troublesome to apply this in a uplifting motion twice a day but if you want a slimmer face, you'll have to make sure you do it daily! I have friends who used this in a long term period and it really works well for them so I better not be lazy so I can be like them too!
For best results, it is recommended to use together with the 3 treasures of the V face series (Deep Exfoliating Gel, Radiant Youth Essence & lastly, Face Lifting Cream).
Retails at: $49.90 Size: 40g
Before I end off, do like
Bio-Essence's Facebook Page
and play UNLOCK YOUR FEMININE CHARM Facebook game & stand to win daily prizes: https://www.facebook.com/bioessence.sg/app_559598417396344! :)