Back with another app guide and review, this time I'll be featuring an application that rewards you while you shop! How awesome is that?!
ShopGuru, a mobile shopping and rewards app, has recently been launched in Singapore to reward customers for visiting and shopping at certain stores. This app is currently available for free on iTunes App Store and Google Play Store. For those using android, it's only available for those with version 4.1 & above; sadly it isn't compatible with my Samsung Galaxy Ace 2 as of now :(
Anyway, this app aims to simplify the process used by shoppers and retailers in connecting and interacting. There are many reward apps out there but what makes this stands out from the rest is: "Imagine walking into a World Of Sports store with the ShopGuru app open and being rewarded just for walking in. Upon entering the store, the ShopGuru app will greet you with 'Welcome [First Name] – You have earned 30 points.' You will then receive offers specially tailored for you directly through the app."
Some of the things that the apps allow users to do:
- Collect reward points for browsing retailer offers on the app
- Receive offers tailored to his or her preferences
- Obtain reward points for certain actions, such as scanning promotional QR codes or bar codes of certain items
- Earn reward points for spending at partner retailers
- Redeem rewards with collected points, such as free coffee, gift vouchers. Users can even donate their reward points to charity.
There will be a hardware device deployed near the store entrance which will be able to sense when a customer opens the app within five to 10 meter radius of the device. (Information taken from
e27.co
)
Moving on, here are some of the screenshots of ShopGuru! :)
It will be easier to sign up an account with ShopGuru by connecting it with Facebook. It will access your profile, email and friend list before setting up an account for you. If you connect by email, it will require verification which takes slightly more time.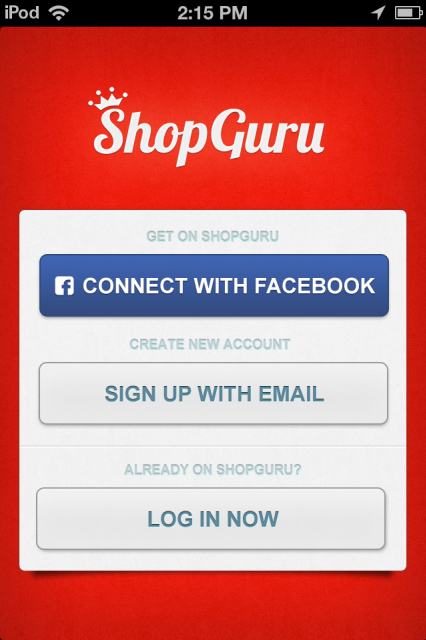 After that, you will be directed to this page where you can key in your friend's referral code to get a head start of 50 points! I started off with 0 points though; this is my code, do key in this:
Oh3M
(it's case sensitive so do use caps for letters o & m)!
It will be followed with a short simple tutorial of how this app works:
Now to my favourite part, rewards! With certain points increase, you will increase your level but the level doesn't really affect anything, more of an indication of where you stand I guess? So for rewards, there is quite a variety of vouchers and products to be redeemed, plus you can also do your part of the charity!
The lowest tier is 250 points for a $1 donation to Singapore Cancer Society and the highest tier will be a Samsung TV at 1.3million points. I wonder who will be so patient to accumulate that much. Haha.
Anyway, the other rewards are tempting enough for me; it includes - Universal Studios, The Face Shop, Pink Parlour, Cathay, O.P.I, Hada Labo, Maybelline, Shaw, Gatsby, Famous Amos, Takashimaya, World of Sports, The Body Shop, Starbucks Coffee, McDonalds, Toast Box, Garrett and CapitaMalls. That's a lot of my favourite brands and retailers! I'm hoping they will add more in the future too :p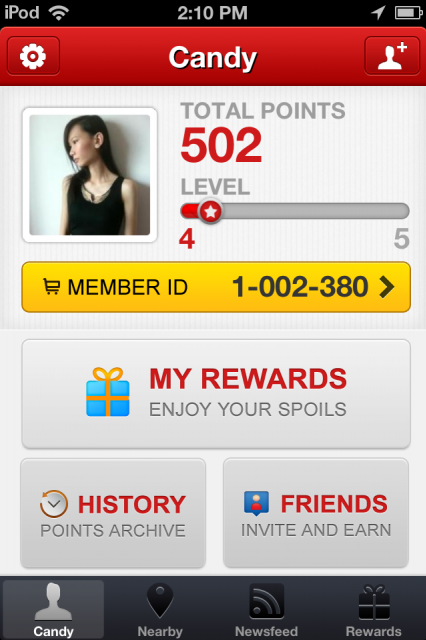 Overall, I find that the app has a simple interface which is easy for people to use and I like the fact that you can earn points just by viewing offers and visiting the stores! Additionally, they have one of the best list of rewards for you to spend your points on; haven't seen any apps with that many awesome rewards, 1300 points for a $5 voucher! That's like inviting 5 friends on board plus clicking some offers :o
Each friend you invite earns you 250 points :)
You can use location setting to view the shops that are near to you. By clicking on the shops, you will get 1 point for viewing their offer. Even though there's limited retailers available for points scheme as of now, I'm sure it will increase once they have more users of this app!
So why not join me on ShopGuru today? Key in "
Oh3M
", using capital letters for o and m to get a head start of 50 points today! ;)