Line Play is too cute, I couldn't resist doing an app guide & review for this! I hope this will be helpful for those who are new to the game. If you haven't join, do give it a try ;)
Recently, my ipod touch 4th generation is having problems with connectivity and using of applications, countless crashing of apps and very bad case of lagging. Plus my phone was lost nearly a year ago and I needed a new phone! Thanks to Chinese New Year red packets, I finally saved enough to get a new smart phone. My very first smart phone, will review that in another post!
After getting a smart phone, I have been on a lookout for useful apps and fun games to download; chanced upon Line Play as it is one of the top free apps in android play store. I have been using their Line app for messaging purposes as ipod touch doesn't allow downloading of whatsapp unless you jailbreak. Line is one of my favourite messaging apps as it comes with a great variety of stickers to express your emotions well, now they even allow you to leave messages to your favourite Korean idols too! The con is that it isn't as popular as whatsapp and does lag from time to time so not much of my friends uses that. Thankfully I have whatsapp now :)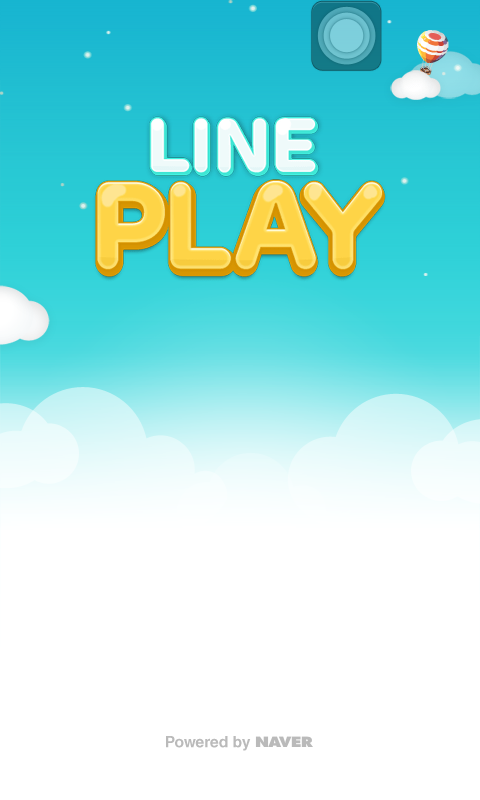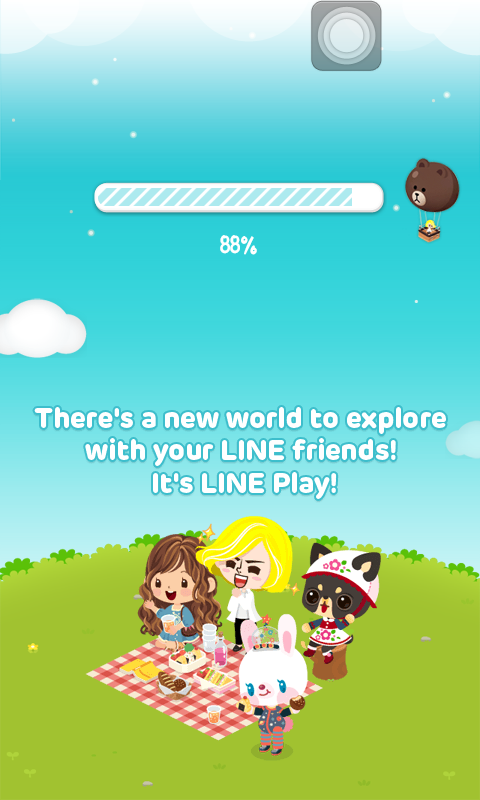 *

Initial

start-up

of Line Play after confirming your avatar will take much longer to load, subsequent times will be faster, don't worry!
Anyway back to Line Play, you'll need to have an account with Line app in order to create an avatar on Line Play. This is something like SIMS where you'll have your own avatar and room to decorate, you can also interact with friends. It's fun choosing the various facial features for your avatar and they even have a function where you can upload a picture and they will create an avatar that closely resembles you. That's how I got my avatar; I took a picture on the spot and I'm surprised that the outcome does look like me in a way, I only changed my hair length before confirming! :)
Do note that once you've confirmed your avatar's facial features, you can not change it again so do make sure that it's really what you want before confirming! Another way is to delete the account and recreate but it's time consuming.
Everyone will start with a basic room consists of a diary, a table, 2 chairs, a window and a door. A new friend known as James (I assume is the creator of the app) will give you a flowerpot too; one of the ways to earn gems, will explain this in a later part.
Let's start from the top! Once everything is loaded, you will arrive at this page: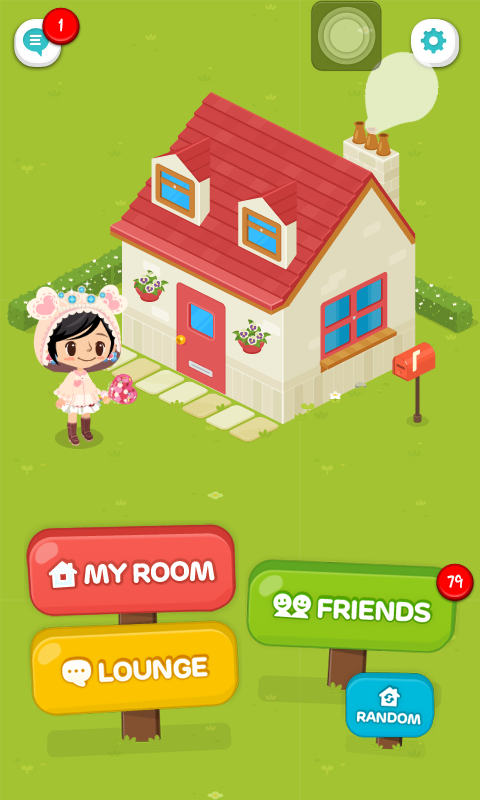 Top left hand corner is the news section which includes 1:1 chats from friends, details of them giving you hearts, keying your invitation codes, posting in your diary etc. Top right hand corner is the settings, where you can edit your avatar name, status, manage storage, etc.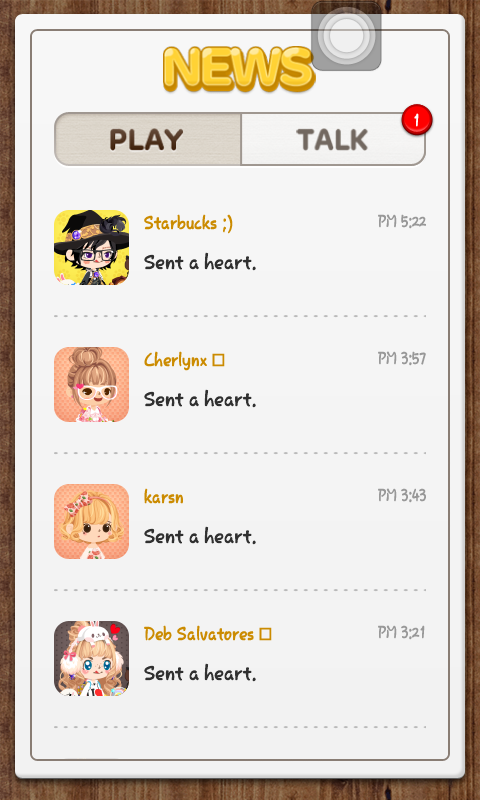 Alright now to the very important part, how to get lots of free gems on Line Play? Gems are the virtual currency and it's really crucial in this game!
Ways to get free gems (starting from the easiest ways)
1. Water the potted plant (+10 gems)
2. Clean up a certain part of a room (+10 gems)
3. Give or Receive hearts (+10 gems)
4. Doing random stuffs like sleeping, eating, bathing (+5 gems)
5. Daily visiting bonus (+50 gems)
6. Daily completion of tasks bonus (+100 gems)
7. Keying in of invitation codes (+1000 gems)
8. Inviting your current Line friends to join app (+1000 gems)
_
The extra gems promo has been removed! You can still visit the idols though :)
*Updated on 18th April 2013
9. Now you can visit idols' rooms and earn extra gems! Each task you do at the idols' room earns you 110gems. I have no idea how long this will last so do visit them daily for the bonus 1320gems!
Task includes sending a heart, watering the plant and cleaning a part of the room.
1 room (+330gems)
Updated 19th July:
Line Play is adding new idols and characters from time to time and every time they do so, there'll be bonus gems for completing certain tasks in their rooms! Currently there's 3: Lee Minho, Kimiko, Cherry :)
_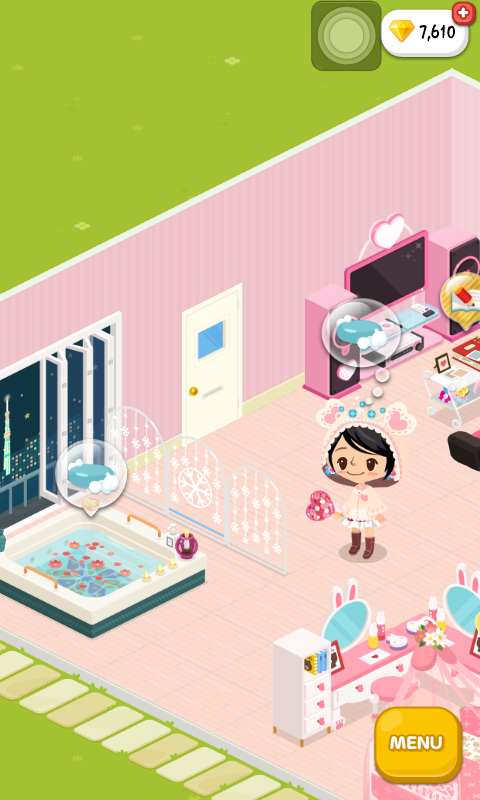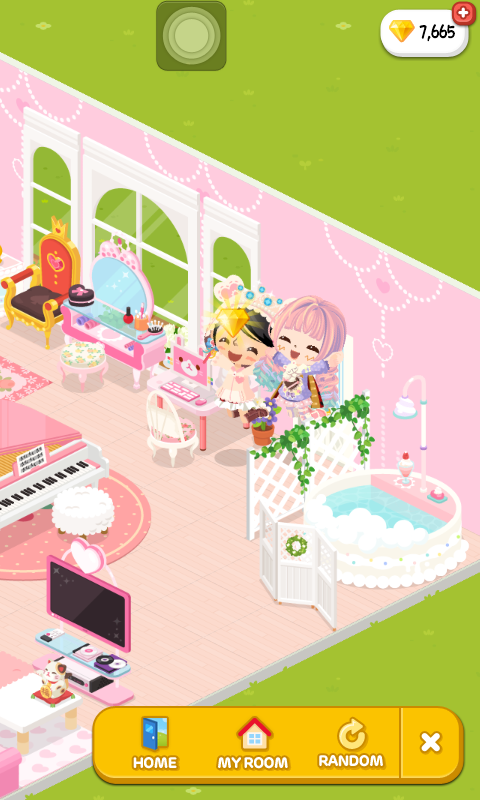 By completing No.1-3, doing them 20 times a day while visiting friends will earn you No. 6, it's quite tedious and usually I'll just visit random houses to save my time from clicking on each of my friends' icon. You can earn about 15 (No.4) + 600 (No. 1-3) + 100 (No. 6) + 50 (No.5) = 765 gems ; this is excluding the hearts that your friends give you, each earns you 10 gems too and you can receive an unlimited amount each day. To complete the actions, just click on the bubble to direct them to the place, be it for bathing, cleaning or watering of plants.
Now to No. 7 Invitation codes, this is the annoying part, you have to ask your friends to key in your code and each person can only key 5 different codes. Every code that you keyed in or your friend does will earn you 1000 gems, but once the slots are used up, you can only depend on No. 1-6 for gems :(
Click on settings - profile - invitation codes.
Those with yellow boxes are for you to key in and those with red boxes are for your friends to key your code. In order to get your personalized invitation code, click on the +1000 gems red button.
Total amount you can get from this is 15,000 gems but it will take quite sometime to do it unless you have 10 willing friends to help you with the second part.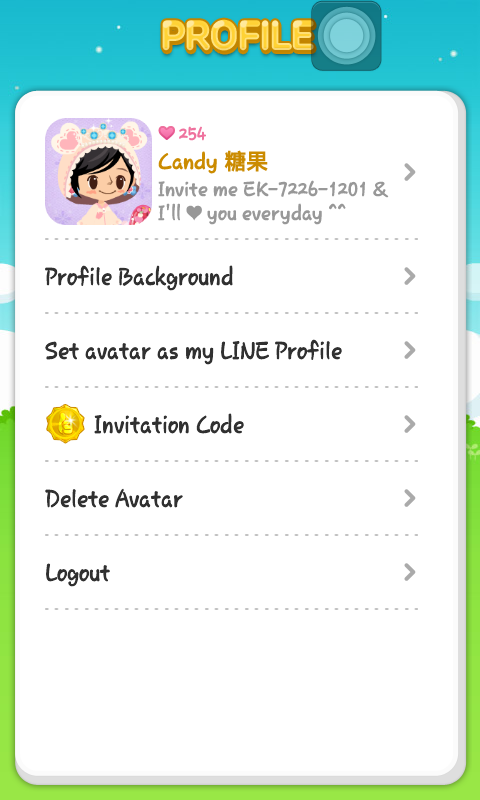 Last but not least, No. 8, you can invite friends from your Line app to this game and each invite earns you 1000 gems! This is rather easy however if you are new to Line messaging app, chances of you having friends to invite is almost zero. Click on friends from your home page and scroll down the add friends section to see the number of friends you can invite.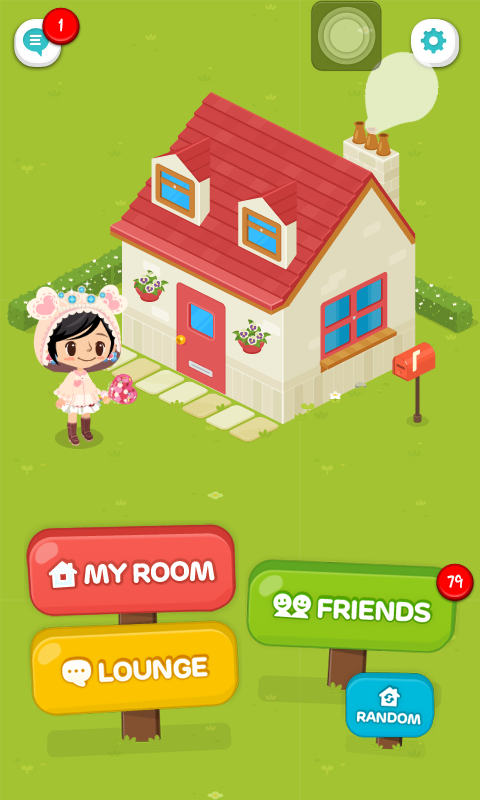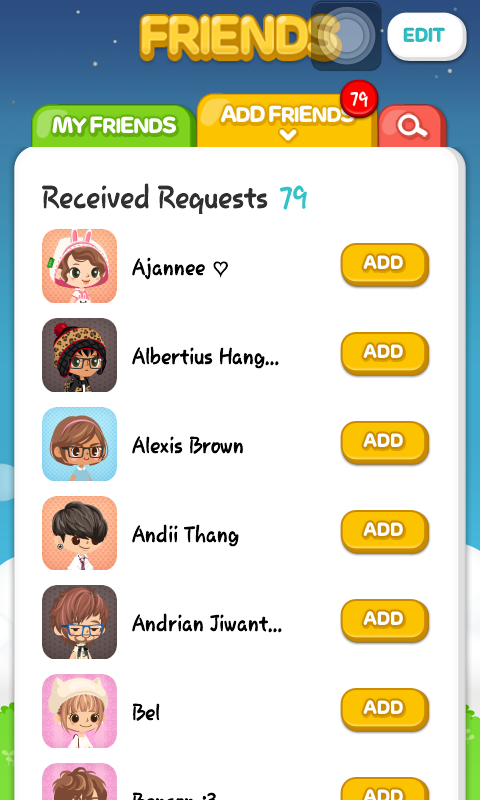 After covering on how to earn gems, shall we move on to how to spend them? The items costs a min. of 300 gems so you have to be rich in order to decorate the house beautifully. I'm still working on my room :(
Firstly shopping, for interior items, clicking on it will enlarge the image for you to see the details clearly, but no trying them in your room. However, for closet section, you can click on each item to see how it looks on you before clicking on buy. If you accidentally click on buy, don't have to worry, they will still have a summary of your items and total amount it will cost. I like how they make effort in doing up these tiny areas to resemble online shopping.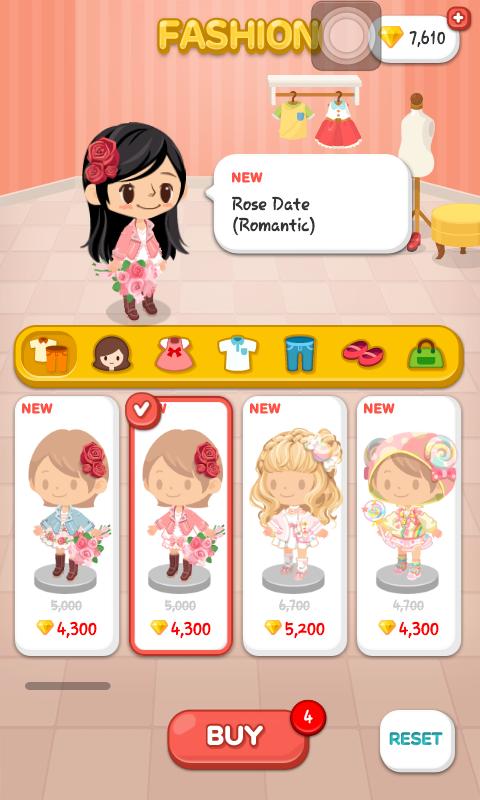 Next up, gacha & gifts! Personally I love the gacha section, it's just like the ones you see in malls, and they even make it sound like you're turning the machine! How cool is that! You will get lots of repeat items too, so I have stopped playing them already, hope I can sell them away soon.
There are limited gift selections and they can be really expensive, I have only traded one item with a friend so far. Hardly anyone sends gifts unless they're doing a trade as these gift items are not found in shops.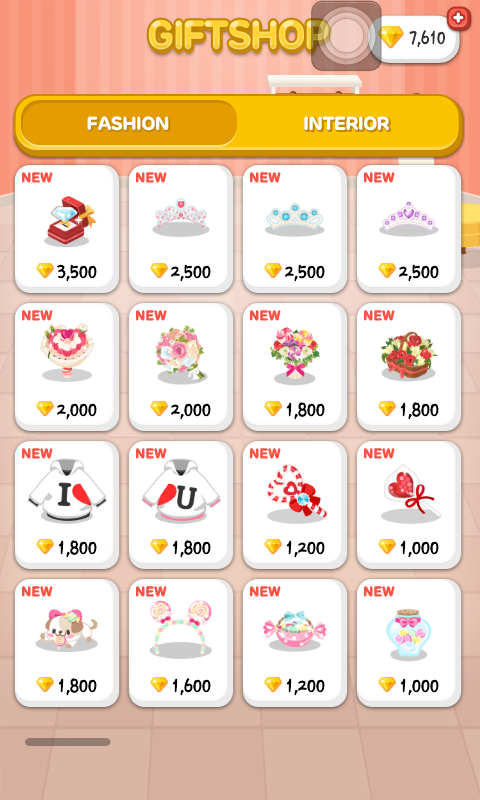 I think that covers pretty much everything you should know, the most important part being earning of gems ;) In conclusion, this app has really good graphics (cute avatars, furniture, etc), I really enjoy changing the outfits for my avatar and designing my own place; it's not perfect yet but I think it should be good enough for now. And you get to talk to people from all over the world (under lounge section). The downsides will be limited ways to earn gems, unable to sell unused furniture or clothes and battery life. I am hoping the next update would include some mini games that users can play to earn more gems as the current schemes can only earn you probably 1000 gems per day and that's little, considering the prices of items in shops. It will be even better if they could include selling or gifting of unused items as the current option is to delete them which is such a waste! Also, drains battery fast so it's not recommended to use this too often ;)
Last but not least, do invite me: EK-7226-1201
, I've finally filled up my slots, thanks to all those who helped!^^
Do be my friend on Line Play, if you found this review useful, do sticker or comment on the first post of my diary! I don't add people I don't know, but if you found me through this post, do comment on my diary and I'll add you:)
Avatar Name: Candy 糖果
I should be the only one with that name so it's easy to find :p
❤