I shall do an updated post for Feecha; it has been more than a year and alot has changed! I've posted on this before, back in 2012, click
here
to see it. This post is not sponsored by Feecha and all pictures are taken using screen capture!
Let's start from the top, what's Feecha?
Feecha is the neighbourhood news app to gossip about what's happening around you. All the latest neighborhood news from good food to sales at a particular area all can be found on this sharing platform.
It's a place for friends and neighbours to gather. A place where we can tell each other useful things about our neighbourhood, fun things to see and do and interesting things to discuss. It's a place where everyone can know your...your avatar. =) Never miss out on all the biggest things happening in your neighbourhood. We show you the best Flickr, foursquare & Instagram posts around you. See what your neighbours are up to, find things to see and do wherever you happen to be.
(Information taken from Feecha)
Most importantly, it's a Singaporean app that's free on iPhone and Android! Support local productions ;)
The icon has changed quite abit since the first time I installed it, now it has a cute smiley face! Pardon my narcissism :p
So what has changed? Now this app is available worldwide! Plus, almost the whole interface of the app changed, even the home page! It looks like a mini game when I first saw it and I thought I downloaded the wrong app! I love the layout of it though.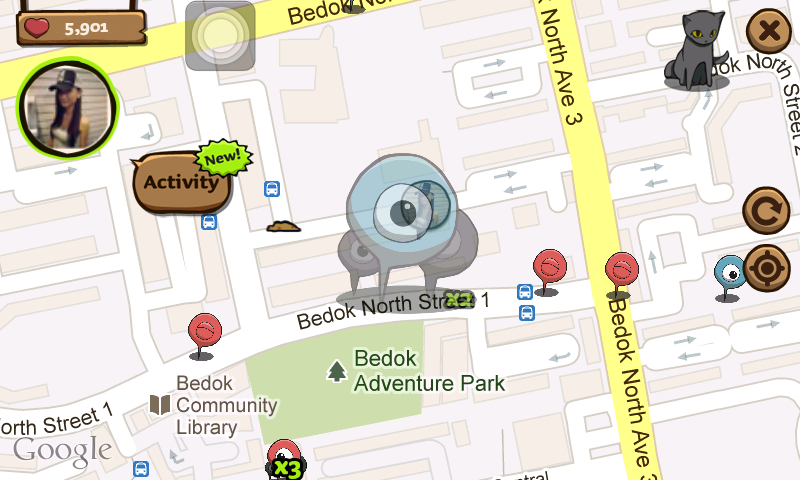 Now there's no more following of individuals or interests, instead you can follow an animal on the map to get all of the latest news in that area. Each area would have its own animal so you have the chance of finding one and naming it your own too, just open the app whenever you go. I have rescued 2 so far :)
The notifications sections has been changed to the activity section, click on "You" to see the latest posts from you, or comments and hearts from others. You can also see the latest updates from Feecha there too.
Here are the 3 different sections under "Activity", "Nearby" is where all the feechas in the area you're in will be displayed, "Following" is the animals which I mentioned earlier and lastly "You".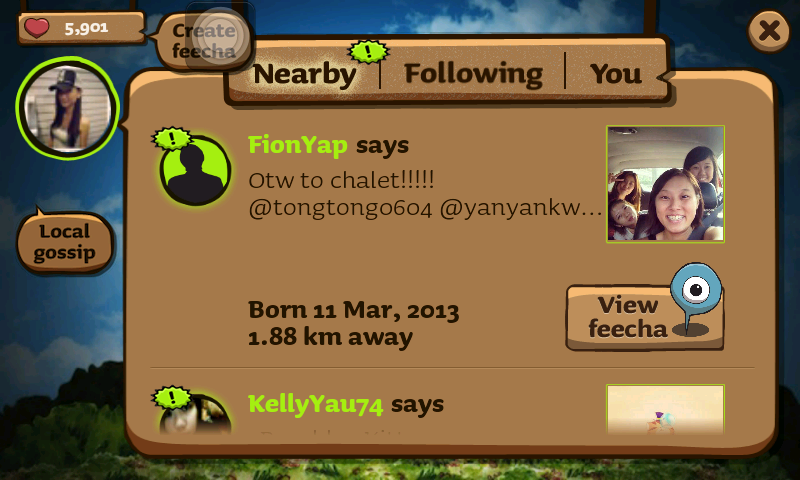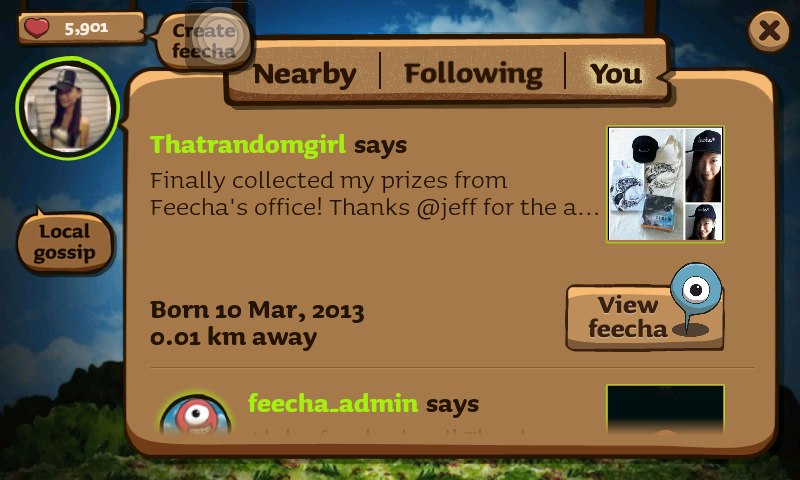 A local gossip section is added, all the latest posts that people are discussing will be posted there, be updated with the news happening around Singapore just by clicking on that; be it food, sales, weather or much more! It saves your time from visiting different areas just for the latest updates or you can chat with other fellow neighbors by leaving a comment on their post!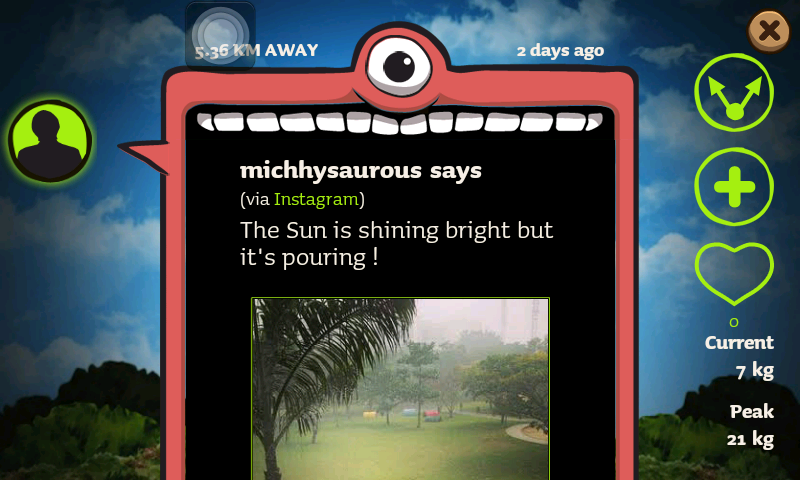 After knowing the basic sections of Feecha, you can start posting a Feecha of your own! It's really simple, click on "Create Feecha" and you can either post a message without pictures or attach them using camera or from your gallery, next you can share them on Facebook or Twitter once you've connected them. Feechas location can be adjusted by clicking the plus at the side of the Feecha.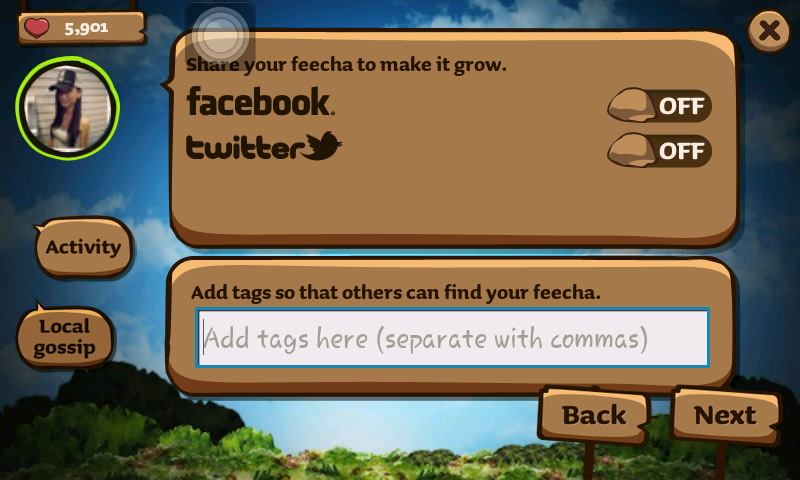 Last but not least, my favourite part, treasure hunt! It started in January I think but I only discovered it in February so I was rather slow; not to worry, if you join now, you still have chances of winning iPad mini! More details below.
It is really simple to win, so simple that I couldn't believe I actually won 2 awesome items!
1. Download Feecha app
2. Open the app wherever you go
3. Receive prizes
There is no survey to do, or weird links to click, all you have to do is open the app and the spade will start digging at a particular spot! You can win either a real life prize such as iPad mini, Creative speakers or receive hearts to buy food to feed your Feecha! The bigger the Feecha, the more people will notice it and view it. The feeding of Feecha part is only available for Apple devices as of now so I can't show you how that works.
Here are the available prizes as of 11th March 2013; as the items are getting lesser, it will be slightly more difficult to find them, nevertheless, just keep trying like I did! :)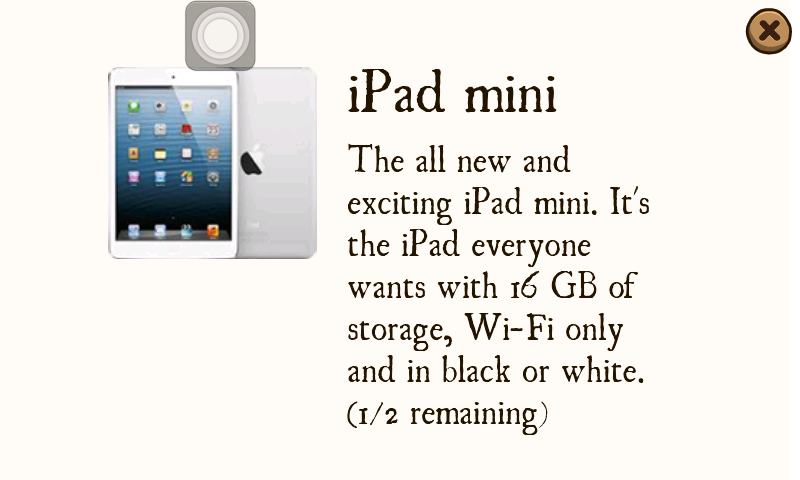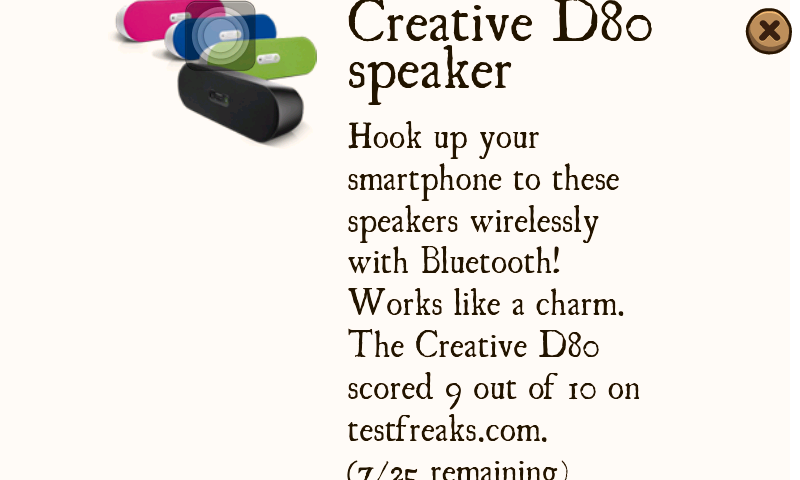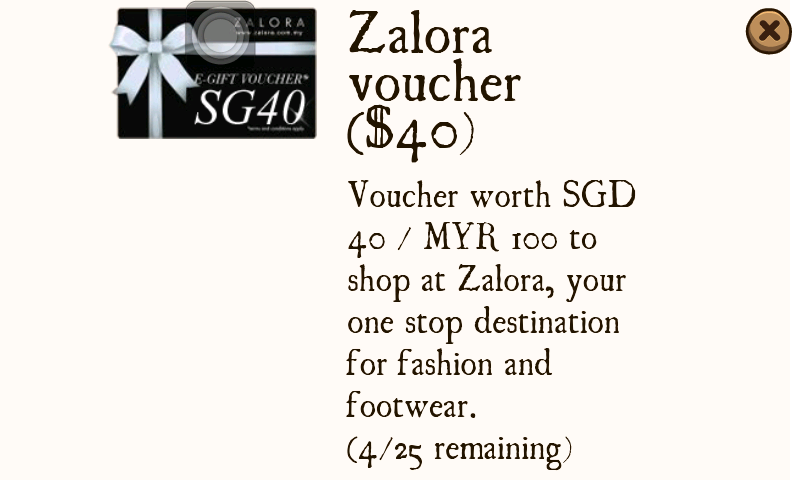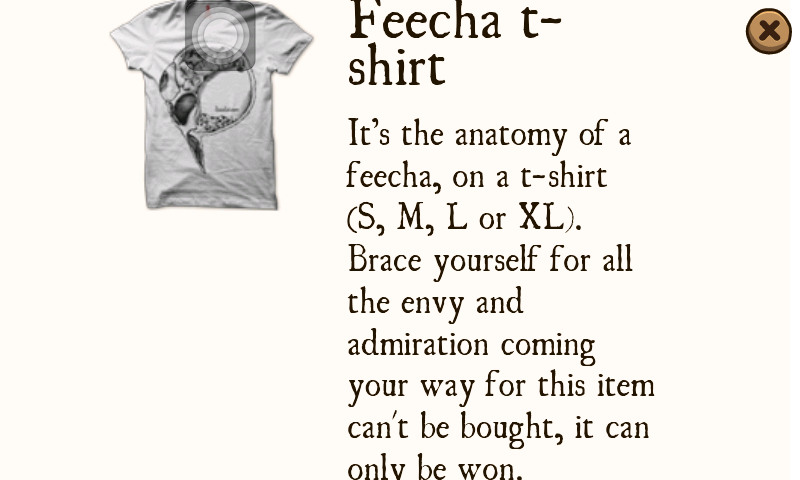 I really want the iPad mini but no luck in finding that so far! Good luck to those who are still searching for the treasures! Anyway, I've collected mine recently from Feecha's office, it was so difficult to locate the office! I'm glad Jeff waited for me and another lucky winner otherwise I might have to make another trip down.
Here are my items:
I won a Creative Headphone and a Feecha T-Shirt but Jeff gave me an additional cap for being a loyal user(1 year plus) and an additional tote bag when I asked if he had any plastic bag for me to carry the stuffs. How sweet is that!
Overall, I think Feecha is one of the must have apps you should have; sharing of food, sales, news is so much easier on this platform! It's user-friendly so no need to worry about having trouble with settings or posting of stuffs. Be updated on what's happening around you and in Singapore with Feecha today! :)
❤