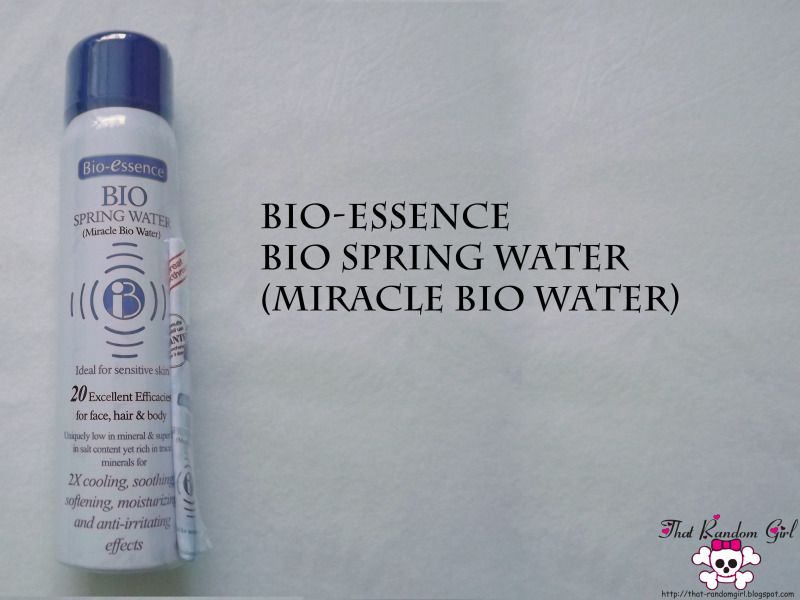 Today I'll be reviewing on Bio-essence Bio Spring Water and a mini giveaway will also be done at the end of this post, do remember to join :)
Miracle Bio Water is suitable for all skin types including sensitive skin as Bio Spring Water uniquely low in minerals and super low salt content yet rich in trace minerals. With these properties, it ensures 2X cooling, soothing, softening, moisturizing, whitening and anti-irritating effects.
Unlike the usual mist or facial sprays you see in stores, Bio Spring Water can be used on face, hair, body and even for babies too! It has 20 efficiencies which includes:
Hair
1. Relieves dryness & split ends
2. Moisturizes for lustrous hair
Face
3. Reduces dark circles
4. Reduces eye bags
5. Controls oil
6. Whitens & brightens skin
7. Refines pores
8. Relieves pimples & reducing redness
9. Lifts skin
10. Firm skin with better elasticity
11. Use after make up for longer lasting & natural look
12. Moisturizes and nourishes skin
13. Relieves tiredness, energizing,
14. Soothes skin after treatment
15. Refines oil effectively
Body
16. Refreshes and soothes skin after exercise
17. Soothes and calms damage skin
18. Under hot sun to moisturize and refresh skin
Babies
19. Ideal skincare for babies
20. soothes diaper rashes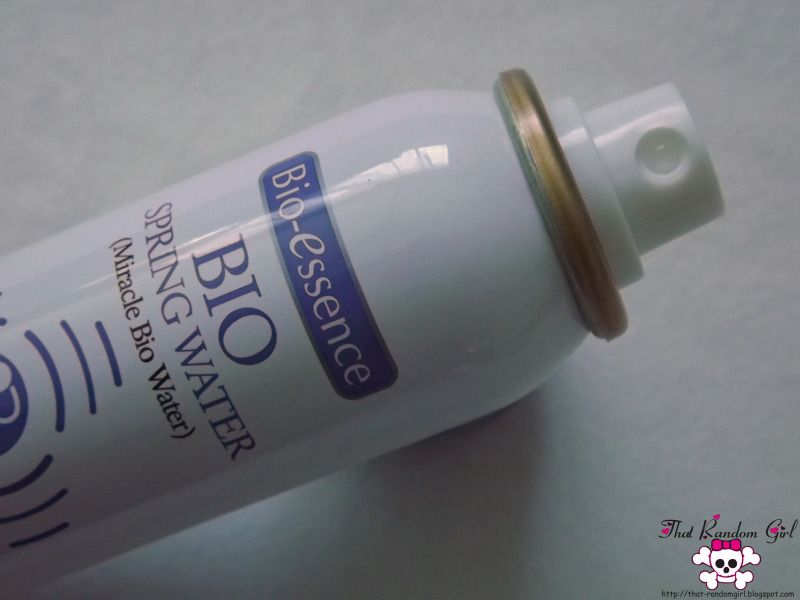 It comes with a spray nozzle which is easy to control the amount of sprays you need and disperses the right amount of spring water in just a spray. I will usually use about 2 sprays for my face :)
You may be wondering why not just use tap water to refresh the face instead of this? Though it looks the same, the properties and content of the two is very different! Bio Spring Water contains low sodium chloride (approx. 2.432mg/l) which ensures the best moisturizing effects, plus it has an optimal pH value of 6.45, much closer to the skin's natural pH value, which allows the product to be mild and non-irritating, hence suitable for all skin types.
I love the refreshing and cooling feeling on my skin whenever I use this. Be it on my face on body, it moisturizes well and I do see improvements in terms of oil control and lesser signs of dry skin. The bottle is small which allows me to carry it around and refresh myself under the hot sun; highly recommended especially when the raining season is going to end soon!
Before I end this post, I will be giving away 3 travel size bottles(25ml each, worth $5.90) of Bio Spring Water to 3 lucky winners! All you have to do is answer the very simple question below, follow me on Bloglovin'/Google Friend Connect, instagram and fill in the form below! I created this form so that you won't have to leave your email address in the comment area and possibly get weird emails and spams! :)

Hurry, join it now, I will throw in some other samples too ;)
Giveaway closed! Congrats to Terenz Terumi, Janice & Denissa! I'll be contacting you all regarding the collection soon :)
❤